Candidates Don't Fit Carolinians' Conservative Mold
Candidates Don't Fit Carolinians' Conservative Mold
The South Carolina GOP primary is just days away, but many Republican voters still haven't made up their minds about whom to support. They find that most of the candidates don't fit in to the traditional conservative mold.
Michele Norris talks about this dilemma with Lin Bennett, chairwoman of the Charleston County Republican Party, along with resident Don Hess and Republican activist Cyndi Mosteller.
What's at Stake in South Carolina's GOP Primary?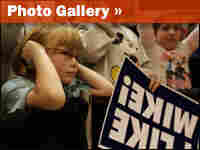 Did You Know?
South Carolina presidential primaries are conducted and paid for by the state's two political parties, not by the state government, so they can choose to hold the contests on different days.
Although South Carolina is home to many Christian conservatives, the leader of the fundamentalist Bob Jones University has endorsed the race's only Mormon candidate, former Massachusetts Gov. Mitt Romney.
Beaufort and Charleston, S.C., have recently seen an influx of Northeasterners. These transplants tend to be less conservative than native Republicans. While they have yet to influence a presidential race, they could become a political force in the future.
South Carolina is seen as a crucial early voting state: Its primary has consistently foretold the Republican nomination since 1980 and often sets the tone for voting in other Southern states.
Here is a guide to what's at stake for the candidates in South Carolina's GOP primary on Jan. 19, and the issues that will be on voters' minds.
Candidates: Former New York Mayor Rudolph Giuliani; former Arkansas Gov. Mike Huckabee; California Rep. Duncan Hunter; Arizona Sen. John McCain; Texas Rep. Ron Paul; former Massachusetts Gov. Mitt Romney; former Tennessee Sen. Fred Thompson
What's at Stake: The GOP field is wide open now that the party's three significant contests have been won by three different candidates.
Huckabee has been courting the state's large number of religious conservatives. (Roughly 40 percent of South Carolinians consider themselves evangelicals). McCain, the New Hampshire primary winner, is popular with the state's military veterans. Romney, fresh off his victory in Michigan, is running ads in the state. Thompson is hoping to play off his conservative platform and Southern roots.
Meanwhile, Giuliani is focusing instead on Florida. He has staked his candidacy on winning the state's Jan. 29 primary, then riding the momentum through the key Super Tuesday states of New York, New Jersey and Connecticut, where he is well-known.
Issues: Illegal immigration is a top concern for voters here, followed closely by Iraq and terrorism. The economy is also a major concern. The Northwest corridor of the state is home to some of the country's most successful high-tech manufacturers, including automaker BMW and several German companies, but other parts of South Carolina have been hemorrhaging textile factory jobs for years.