Candidates Talk Economy in Foreclosure-Prone Nev.
Candidates Talk Economy in Foreclosure-Prone Nev.
Former Federal Reserve Chairman Alan Greenspan sounded like a Las Vegas oddmaker this week, telling the Wall Street Journal the odds are better than 50-50 that the U.S. is in a recession, or about to be.
For Democratic presidential hopefuls campaigning in Las Vegas in advance of Saturday's Nevada caucuses, that was no surprise. They've been calling on the federal government to take action to stimulate the economy.
"I was the first candidate to come out with an aggressive stimulus to get this economy moving again," John Edwards said last night. The former North Carolina Senator told union members in Las Vegas the federal government should invest billions in alternative energy, and put the resulting jobs in places where they're needed most.
Edwards also wants the government to create a "home rescue fund," to deal with what he called, "this terrible mortgage crisis that exists across America and is most intense right here in your state."
Nevada has the nation's highest home foreclosure rate. Although many of the homes in foreclosure were owned not by local workers but out-of-state speculators, abandoned houses can create problems for many Nevada neighborhoods.
"Pretty soon the weeds start to grow," New York Sen. Hillary Clinton said Tuesday, during a campaign rally in Las Vegas. "And then property taxes decrease. Then police can't have the same level of patrol because they can't be paid. So this is all interconnected."
Clinton has proposed a three-month moratorium on home foreclosures and a five-year freeze on adjustable interest rates. She has also suggesting that the federal government pump an extra $25 billion into the economy in the form of emergency assistance with home heating costs.
"I also want to put money in American's pocketbooks to pay their energy bills," Clinton said.
Clinton unveiled her economic stimulus plan last Friday. Illinois Sen. Barack Obama countered with his own plan two days later, and he's been talking about economics wherever he goes in Nevada.
"People are working harder and harder for less," Obama said Wednesday, during a town hall meeting in Henderson, Nevada. "They've never paid more for health care, college, gas at the pump."
Obama's plan differs from Clinton's and Edwards' by offering an immediate payment of $250 to nearly every worker and Social Security recipient in America. Those payments, totaling $45 billion, could be doubled if the economy continued to worsen.
"There are two basic yardsticks that virtually all the experts agree a stimulus package must include," said University of Chicago economist Austan Goolsbee, an Obama adviser. "They must get the money out the door immediately and they must put it in the hands of people who can use it right away."
Goolsbee argued that Obama's proposed tax rebates and Social Security payments would put the money in the hands of consumers more quickly than Clinton's home heating assistance. Today, Clinton added her own call for direct tax rebates, citing worsening economic conditions.
The plans Democrats have been touting on the campaign trail in Nevada have now reached the policy-making corridors of Washington. President Bush and Federal Reserve Chairman Ben Bernanke now agree some sort of stimulus is wararanted. Economist Goolsbee said deciding when stimulus is needed is like choosing when to apply sunscreen. "If you really wait until it's completely obvious, it's going to be very painful."
What's at Stake in the Nevada Caucuses?
Ethan Miller/Getty Images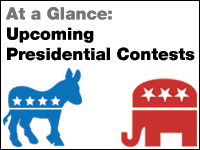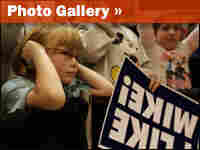 Did You Know?
• Nevada is the first primary or caucus state with a sizable number of Hispanic voters.

• Only caucus-goers registered with a party can participate. Absentee ballots are not accepted. Nevada's caucuses will begin Saturday morning and are expected to last several hours.

• Nine hotels and casinos have been designated as Democratic caucus sites, in a move aimed at making it easier for casino workers to participate. The state Democratic Party let the culinary workers' union, which has endorsed Illinois Sen. Barack Obama, choose the sites. But that decision has been challenged in court by the state teacher's union, which argues that the sites unfairly favor Obama.
Nevada is the first Western state to hold caucuses for both parties, but Saturday's event has become more of a Democratic affair. Sens. Barack Obama (IL) and Hillary Clinton (NY) compete in the Silver State having each won a victory in an early voting contest. They, as well as former Sen. John Edwards (NC), are looking for a win in Nevada to give them a boost going into South Carolina and Super Tuesday.
Though Nevada Republicans are also caucusing that day, the GOP presidential candidates have largely chosen to focus their efforts in South Carolina, whose same-day primary has long been seen as determinative in the race for the Republican nomination.
Here's a guide to what's at stake for the candidates in Nevada's Jan. 19 caucuses, and the issues that will be on voters' minds.
DEMOCRATS
Candidates: Sen. Hillary Clinton (NY); former Sen. John Edwards (NC); former Sen. Mike Gravel (AK); Rep. Dennis Kucinich (OH); Sen. Barack Obama (IL)
What's at Stake: Clinton had a double-digit lead in the polls back in December, but Nevada's largest union of culinary workers (which has roughly 60,000 members) has endorsed Obama. A recent poll of 500 Democratic and Republican voters, sponsored by the Reno Gazette-Journal shows Clinton, Edwards and Obama in a statistical dead heat: Obama with 32 percent, Clinton with 30 percent and Edwards with 27 percent.
All of the candidates will fight over the Hispanic vote. Latinos make up 25 percent of the state's population, although only half of them can vote due to age or immigration status. The withdrawal of Gov. Bill Richardson (NM) from the race has only increased the remaining Democrats' efforts to woo Spanish-speaking voters. Nevada has hosted two Democratic debates, one in November and one on Jan. 15.
The Issues: As with most states, the Iraq war, immigration and the economy are major issues in Nevada. As a Western state, water, environmental and energy rights also come into play. Nevada has not been as hard-hit as other early-voting states, such as Michigan and South Carolina, in terms of unemployment — the booming casino businesses employs many residents — but it does have the highest rate of home foreclosures in the country.
REPUBLICANS
Candidates: Former Mayor Rudolph Giuliani (NY); former Gov. Mike Huckabee (AR); Rep. Duncan Hunter (CA); Sen. John McCain (AZ); Rep. Ron Paul (TX); former Gov. Mitt Romney (MA); former Sen. Fred Thompson (TN)
What's at Stake: Unlike the Democrats, the Republican candidates have never expended much effort in the state. A poll sponsored by the Reno-Gazette Journal shows the GOP candidates locked in a close contest.