McCain Braces for Tough Campaign in S.C.
Sen. John McCain (R-AZ) is in South Carolina — where he leads in the polls by a handful of points. The state's Republicans vote in their primary on Saturday.
At a campaign rally Thursday afternoon in Columbia, S.C., McCain spoke to some of his supporters.
"I promise you I will lead America in the 21st century and make you proud," McCain said to the gathering.
"I will restore your trust and confidence in government, and I will lead this nation in the challenge against radical Islamic extremism, and we will never surrender — they will. I promise you that — they will."
Despite his second-place finish in Michigan, McCain remains confident about his prospects in South Carolina, even among social conservatives, many of whom disagree with him on issues such as immigration.
"In New Hampshire, we were able to get the support of Republicans from all parts of the party, I'm sure we will do that in South Carolina, and we'll win," McCain tells Michele Norris.
In particular, he believes that his strong stance on national security and against radical Islamic extremism will help him with social conservatives.
McCain says he is continuing his strategy of "straight talk" on the loss of U.S. jobs and future economic prospects.
"Voters are smart. They're not uninformed," McCain says. "I can't tell [people] that buggy whip factories will be built nor haberdasheries. But I can tell them that in this new technology revolution we're in, there's going to be plenty of jobs and plenty of opportunities for some of the most productive workers in America."
As McCain returns to the Palmetto State, he is braced for a repeat of his last presidential campaign in the state in 2000, in which he faced an onslaught of negative campaigning. Already, there is evidence that opponents are circulating rumors and promoting push polling to focus on the senator's first divorce and his record of supporting veterans.
McCain says he thinks this is happening to him because South Carolina is pivotal in the nominating process — historically, the state has been the most reliable barometer in forecasting the GOP nominee — and he currently leads the polls.
But he is quick to point out that negative campaigning is not what caused him to lose the South Carolina primary to George W. Bush in 2000 — and it won't keep him from winning in 2008.
"The reason why I lost in 2000 is then-Gov. Bush had a solid financial and political base here. It wasn't because of the very, frankly, offensive stuff that went on. It was that he had the political machine behind him and the finances and did a better campaign," McCain says, adding that he currently has a very strong financial and political base in the state.
What's at Stake in South Carolina's GOP Primary?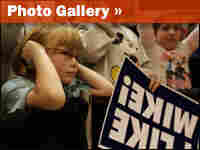 Did You Know?
South Carolina presidential primaries are conducted and paid for by the state's two political parties, not by the state government, so they can choose to hold the contests on different days.
Although South Carolina is home to many Christian conservatives, the leader of the fundamentalist Bob Jones University has endorsed the race's only Mormon candidate, former Massachusetts Gov. Mitt Romney.
Beaufort and Charleston, S.C., have recently seen an influx of Northeasterners. These transplants tend to be less conservative than native Republicans. While they have yet to influence a presidential race, they could become a political force in the future.
South Carolina is seen as a crucial early voting state: Its primary has consistently foretold the Republican nomination since 1980 and often sets the tone for voting in other Southern states.
Here is a guide to what's at stake for the candidates in South Carolina's GOP primary on Jan. 19, and the issues that will be on voters' minds.
Candidates: Former New York Mayor Rudolph Giuliani; former Arkansas Gov. Mike Huckabee; California Rep. Duncan Hunter; Arizona Sen. John McCain; Texas Rep. Ron Paul; former Massachusetts Gov. Mitt Romney; former Tennessee Sen. Fred Thompson
What's at Stake: The GOP field is wide open now that the party's three significant contests have been won by three different candidates.
Huckabee has been courting the state's large number of religious conservatives. (Roughly 40 percent of South Carolinians consider themselves evangelicals). McCain, the New Hampshire primary winner, is popular with the state's military veterans. Romney, fresh off his victory in Michigan, is running ads in the state. Thompson is hoping to play off his conservative platform and Southern roots.
Meanwhile, Giuliani is focusing instead on Florida. He has staked his candidacy on winning the state's Jan. 29 primary, then riding the momentum through the key Super Tuesday states of New York, New Jersey and Connecticut, where he is well-known.
Issues: Illegal immigration is a top concern for voters here, followed closely by Iraq and terrorism. The economy is also a major concern. The Northwest corridor of the state is home to some of the country's most successful high-tech manufacturers, including automaker BMW and several German companies, but other parts of South Carolina have been hemorrhaging textile factory jobs for years.