Film Shows 'Dark Side' of U.S. Military Interrogation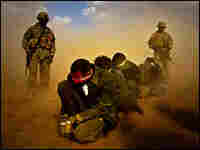 More from the Interview
Writer and director Alex Gibney has a very personal connection to the film: His father, Frank Gibney, was a U.S. military interrogator during World War II.
Alex Gibney discusses how his father's experiences influenced the film; hear Frank Gibney in his own words
See a Scene from the Film
Soldiers Discuss the Case of Dilawar's Death
In December 2002, a 22-year-old Afghan taxi driver named Dilawar was detained and sent to Bagram Air Base for interrogation by U.S. soldiers.
Dilawar was suspected of involvement in a rocket attack against U.S. troops.
Five days after his interrogation began, he was dead.
A new documentary, Taxi to the Dark Side, tells the story of Dilawar and his death, and links the abuses at Bagram with techniques used at Guantanamo and later, at Abu Ghraib in Iraq.
The film was written and directed by Alex Gibney, who also made the 2005 documentary Enron: The Smartest Guys in the Room — a portrait of another culture that ran amok.
The U.S. Army said Dilawar died of natural causes. Gibney tells Melissa Block that his death might have gone unnoticed if it weren't for one clue: a note, written in English, clipped to the man's death certificate and discovered by New York Times reporter Carlotta Gall.
It said: "Cause of death: Homicide."
Gibney talks with Melissa Block about his film, how he was able to secure the cooperation of soldiers involved in the case, determining which images were too graphic to include and what he hoped to achieve with Taxi to the Dark Side.
"I worried about the worldwide reaction, yet at the same time, I felt that in some way, making the film was a kind of patriotic act. I think after this abuse has taken place, one of the things we as a nation have to do is show the rest of the world that we're capable of investigating ourselves," the filmmaker says.