Sundancing All the Way Home
Sundancing All the Way Home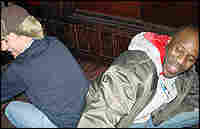 The Bryant Park Project has been covering the Sundance Film Festival in Park City, Utah, with interviews, trailers and insider video you can't get anywhere else.
This week, we're proud to feature the saga of the Cause Collective, a group of multimedia artists in Sundance's hot new venue, New Frontier on Main. Doing Sundance on a shoestring, the Bay Area artists are crammed into a condo — when they're not out working on their video mosaic "Along the Way" or just plain partying.
See our blog for full coverage from the 2008 Sundance Film Festival.