Wind-Powered Cargo Ship Sets Sail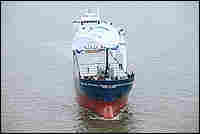 Welcome to the "green" age of commercial shipping. A German-made cargo ship will soon set sail, literally. The ship will be carried over the water partly by wind power.
The sails are from a German company called SkySails, and they're really more like giant parachutes. Each sail is about the size of a football field.
Adam Weiss, from the Current Science and Technology Department at the Museum of Science in Boston, says the use of these giant sails could revolutionize the commercial shipping industry. Drawing some power from wind could cutting a vessel's use of fossil fuels by 30-35 percent. Over the course of a year, the giant sail could save the shipping firm about $1,600 a day.