Dubai's Media Censors Tackle News, Sex and Politics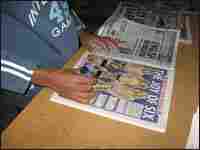 Every day before dawn, a crew of Indian workers from the Jashanmal National Company, gather in a warehouse in Dubai to censor the morning news.
One man sits cross-legged on a table, painting over photos of bare female breasts and bottoms, which are prominently shown in an issue of the racy British tabloid, The Sun. Nearby, another worker rips entire pages of phone sex advertisements out of copy after copy of another British paper, the Daily Mirror.
These newspapers all have to be "cleaned up" before they hit local newsstands.
Looking for Problematic Material
The man tasked with scanning the newspapers every morning and finding the problematic material is Prem Singh. Though he wears the traditional beard and turban of a sikh from India, Singh is an expert judge of what could offend the citizens of this wealthy Arab sheikdom. He's been doing this job for 16 years.
"I'm looking for whatever pictures there are here," Singh explains as he quickly leafs through a British paper. "Nude pictures and anything [written] against these countries, especially Dubai. Anything against Islam."
Singh takes an extra minute to read an article in The Economist about President Bush's recent visit to the United Arab Emirates, to make sure it doesn't include anything insulting about the UAE's ruling sheikhs.
Regulating Internal, External Media
Every single book, newspaper or magazine that is imported into the UAE first needs to receive clearance from the country's media regulation agency, the National Media Council.
The council heavily censors three main taboo topics: pornography, material deemed insulting of religion (particularly Islam) and criticism of the country's rulers.
"International press is given wider latitude ... there's very little editorial censorship," says Narain Jashanmal, the manager of the Jashanmal company's print division. "Domestic press has clear boundaries what can and can't be written about."
The local newspaper and TV stations in the UAE have traditionally offered a daily dose of rosy reports, highlighting the daily schedules of the country's rulers and their economic and political achievements.
In an article on press freedoms this month in the Dubai-based English language daily, Gulf News, the paper's editor-in-chief Abdul Hamid Ahmad complained, "The fact that one needs a license to publish a newspaper means there is no freedom and media is being controlled by the government."
"Media issues here with respect to how you report things are a criminal issue, not a civil issue," said James Piecowye, a professor of communications at Zayed University and the host of an English-language talk show on a Dubai radio station. "It's not a lawyer who comes to your door, it's the police who come to your door. You get arrested."
Addressing Taboo Topics
Last September, a UAE court sentenced two journalists from the Emirati newspaper, the Khaleej Times, to two months in prison for libel after they wrote about a divorce. The charges were dropped after the ruler of Dubai, Shaikh Mohammad Bin Rashid al Maktoum, declared that it was wrong to jail journalists.
The UAE government is currently working on amending an existing press law. Ibrahim Al Abed, the director of the National Media Council, says the new law will prohibit the arrest of journalists. But he says criticizing the Emirati royal families will still be a punishable offense.
"You can criticize the policies without naming the president," Al Abed explained. "That is part of our culture. We respect the ruler or the president as it is the case with some countries and their kings."
Some local reporters say they can write and discuss some taboo topics, provided they sanitize their copy and take a diplomatic approach to the subject.
"You do have to be careful. Sometimes what you can do is take certain topics and not tackle them from a negative perspective," explained Masrat Daub, an Indian national who, after spending most of her life in the UAE, has adopted the sequined cloak and headscarf worn by many Emirati women. Daub has appeared several times on Piecowye's talk show, and the two plan to focus on a controversial social subject, arranged marriages, on a broadcast later this week.
"I wouldn't say that they have complete openness here," Daub added, "but I do feel there are a lot of topics we can speak about right now that weren't even thinkable a couple of years back."