Five Pianos, 100 Fingers, and a Sabre Dance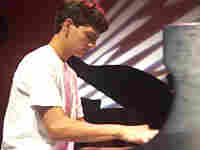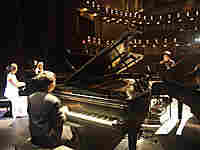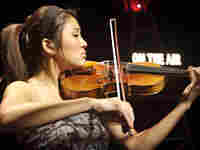 From the Maui Arts and Cultural Center in Kahului, Hawaii, this week's gifted young musicians include a 13-year-old guitarist playing a Venezuelan waltz, an award-winning 15-year-old double bassist and a five-piano, ten-pianist extravaganza featuring music by Bizet and Khachaturian.
Thirteen-year-old Joseph Lee fell in love with the sound of the classical guitar when he was just a toddler.
"My mother played recordings and I remember loving the robust, melodic sounds," he says. Lee and his mother decided they would both take classical guitar lessons, splitting one half hour of lesson time. But soon after they started, however, his mom gave up the instrument so Lee could use the entire lesson time.
Lee's dedication to learning guitar paid off at age nine. He was accepted into a master class led by the renowned guitarist Christopher Parkening, who opened up an extra spot in his master class for the young boy.
Lee is a recipient of the Jack Kent Cooke Young Artist Award. He will receive an award of $10, 000 to help him continue his music studies and assist with his music-related needs. He plays Adios a Ocumare and Venezuelan Waltz No. 3 by Antonio Lauro.
Violinist Kaori Matsui didn't know any English when she and her family moved from Japan to Cincinnati, Ohio four years ago.
"It was really hard at first," she recalls. "All I could say was, 'Hi. How are you?'" Now Matsui, at age 16, speaks English beautifully and has made a lot of friends at school, due in part to being a member of the lacrosse team.
Matsui loves playing chamber music as much as she loves playing lacrosse. "Both require teamwork," she explains. "When you play lacrosse, you need to trust your teammates to score a goal, and when you play chamber music, you have to know what the others are playing and listen to each other to make great music." Matsui plays the Polonaise brillante No. 2 by Henryk Wieniawski.
Seventeen-year-old pianist Jacob DeForest resides in Paia, Hawaii on the island of Maui, "my favorite place on earth," he says. "At sunset you can see the mountains and the sun shining over the water and the mist. It's absolutely amazing here."
DeForest says he doesn't have many friends who love classical music the way he does. "I grew up with classical music and it's become a part of me. I live and breathe it."
As serious as he is about piano, his ultimate dream is to become a surgeon. DeForest plays the Prelude Op. 23, No. 5 by Sergey Rachmaninoff.
Kiyoe Wellington, 15, is descended from "bass royalty." Her grandfather, George Wellington, Sr., was a noted double bassist and teacher on Hawaii, who began the biennial Hawaii Contrabass Festival, which now continues under the direction of Wellington's mother.
Wellington says that despite her grandfather's reputation, she grew up having lessons with him and just thought of him as "grandpa." Wellington plays a double bass handed down to her from her famous grandfather. "It has scratches on the back of it from his belt buckle," she says. She plays Reitba by Francois Rabbath, accompanied by Christopher O'Reily.
At the end of this week's From the Top, five pianos graced the stage of the Castle Theatre for a keyboard extravaganza. The unique performance involved ten pianists from the Ellen Masaki School of Music in Honolulu, run by Ellen Masaki, one of Hawaii's foremost classical pianists.
Two ensembles played five-piano repertory arranged by Jane Tan. The first ensemble, performing "Aragonaise" from Georges Bizet's Carmen, includes Yulia Sharipova, 15; Tyler Ramos, 12; Andrew Ramos, 16; Alda Lam, 15; and Laura Bleakley, 16. The second ensemble, performing Aram Khachaturian's fiery Sabre Dance, includes Irwin Jiang, 16; Maile Cha, 16; Rachel Stanton, 14; Annie Kwok, 12; and T. J. Tario, 13, all from the island of Oahu.
This program originally aired on January 23, 2008.