Market Turmoil Gives Stimulus Plan a Boost
After another day of turmoil in financial markets, the White House and Congress are expressing confidence that they can agree on measures to stimulate the economy. But the plan remains a work in progress.
STEVE INSKEEP, host:
Here in Washington, Republicans and Democrats alike say they want to help the economy. Both sides are suggesting they can work together. And we'll find out soon if they can do that any better on the economy than they have on so many other issues.
NPR's David Welna has this report.
DAVID WELNA: As stock markets continued on a southward slide yesterday, Speaker of the House Nancy Pelosi and other top congressional leaders tried to convey a sense of urgency. They sat around a table with Treasury Secretary Henry Paulson, but took no questions from the reporters they'd invited in to record the scene. Pelosi did declare, though, that Congress now has another reason to act.
Representative NANCY PELOSI (Democrat, California; Speaker of the House): And whether it's by herd mentality or restructuring of their markets or whatever it is, the world's markets are reacting to the situation in the United States. For this reason, but especially because of the impact on households of America, it's important that we have a stimulus package that is timely, that is temporary, and that is targeted.
WELNA: And when President Bush met with these congressional leaders at the White House later in the day, he was upbeat about the prospects of getting such a stimulus package.
President GEORGE W. BUSH: I believe we can find common ground to get something done that's big enough and effective enough so that - so that a - an economy that is inherently strong gets a boost to make sure that this uncertainty doesn't translate into, you know, more economic woes for our workers and small business people.
WELNA: The White House would like to inject about $150 billion into the economy. As Senate Majority Leader Harry Reid left the White House meeting yesterday, he was asked whether that's enough money to revive the economy. Reid sounded dubious.
Senator HARRY REID (Democrat, Nevada; Majority Leader): If we were able to legislate today, for me personally - I think that's a good number. But we aren't legislating today. With what's happened in the markets, today even, we have to take another look at this.
WELNA: Whatever Congress comes up with, Reid wants it finished by the time lawmakers leave for their Presidents Day break three and a half weeks from now. His Republican counterpart in the Senate, Mitch McConnell, agreed on that goal, but he also warned that a stimulus package has to do two things - create jobs and cut taxes.
Senator MITCH McCONNELL (Republican, Kentucky; Minority Leader): It would be broad-based for maximum effect and it won't include wasteful spending on programs that might make us feel good but would have no positive impact on the economy.
WELNA: Republicans in general question the kind of extended unemployment benefits and increased food stamps that Massachusetts Democrat Edward Kennedy called for yesterday on the Senate floor.
Senator EDWARD KENNEDY (Democrat, Massachusetts): We must do the most for those who need the help the most. Targeting families at the very bottom of the economic ladder is essential because it also provides the biggest economic boost. Every dollar a low-income household receive is spent on basic needs, putting money back into the local economy right away.
WELNA: But New Hampshire GOP Senator Judd Gregg was skeptical.
Senator JUDD GREGG (Republican, New Hampshire): That money will be spent, but does it stimulate our economy? I'm not so sure. So much of the product that we buy in America today, that we consume in America today, is produced outside the United States - maybe it stimulates the Chinese economy, but I'm not so sure it stimulates our economy.
WELNA: Agreeing on the need for a stimulus was clearly the easy part. The hard part will be coming up with one quickly.
David Welna, NPR News, the Capitol.
NPR transcripts are created on a rush deadline by Verb8tm, Inc., an NPR contractor, and produced using a proprietary transcription process developed with NPR. This text may not be in its final form and may be updated or revised in the future. Accuracy and availability may vary. The authoritative record of NPR's programming is the audio record.
Bush, Congress Seek 'Common Ground' on Economy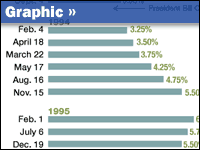 In another day of turmoil for the financial markets, the Dow Jones Industrial Average lost more than 100 points on Tuesday — although that was a bit of a rebound from earlier in the day, when the Dow was off more than 400 points.
In Washington, the Federal Reserve Board cut a key interest rate by three-quarters of a point, expressing concern about the possibility of a recession. In addition, President Bush met with congressional leaders to try to build a consensus on legislation to stimulate the economy.
Bush expressed his confidence that all sides would be able to reach an agreement on an economic stimulus proposal.
"I believe we can find common ground to get something done that's big enough and effective enough so that an economy that is inherently strong gets a boost," he said.
On Capitol Hill, lawmakers continued to discuss the parameters of the stimulus package. House Majority Leader Steny Hoyer praised the Fed's action and said Congress should follow suit.
"The Federal Reserve has taken very significant action today, and the way I put it is we need to do something that's simple, that everybody can understand, that's fast and that's focused," he said.
While lawmakers are focused on the idea of putting cash in the hands of consumers, there's still no consensus on how best to do that. Democratic Sen. Max Baucus of Montana, who chairs the Finance Committee, suggested not only giving rebates to individuals and couples, but giving more to families with children.
But there were some notes of caution being heard on the Hill on Tuesday. One was that people shouldn't head to their mailboxes just yet. The director of the Congressional Budget Office, Peter Orszag, told the Senate Finance panel that while any stimulus should be approved quickly, the Internal Revenue Service might not be able to cooperate.
"A major administrative issue with rebates involves when the checks could go out, given that the IRS is busy with tax filing season," he said. "It will be a major challenge to issue checks before May or June at the very earliest."
Meanwhile, fiscal conservatives in Congress were warning their colleagues not to get carried away.
"I just wanted to raise this sort of red flag of reason before we step onto this slippery slope of a stimulus package, which could easily end up being primarily a spending package for the purposes of addressing whatever anybody happens to deem to be a good political spending issue," said Sen. Judd Gregg (R-NH).
Bush said he was realistic about how much time it will take Congress to send him a stimulus proposal. Senate Majority Leader Harry Reid said he hoped it could be accomplished in the next three weeks.