What the Fed Rate Cut Means for Consumers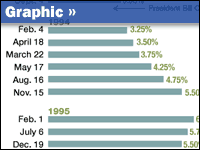 The Federal Reserve's decision Wednesday to cut a key interest rate by half a point comes as fears of a recession grow. Here's a look at what the move means for consumers — and what else to look out for amid the economic turmoil:
Is now a good time to refinance my house?
It certainly could be. Thirty-year fixed-rate mortgages have been dropping since Christmas. The average is now 5.5 percent, quite low by historical standards. So if you have an adjustable rate mortgage that's going to reset, now could be an excellent to time to swap into a fixed-rate loan.
Lending standards have changed since the "anything goes" days of the housing bubble that burst last fall. "Here's why," says Greg McBride, senior financial analyst with bankrate.com, a personal finance Web site. "There are actually standards now. Instead of the loan requirement being the ability to fog a mirror, the people now in the best position to get mortgages have good credit, proof of income and either money for a down payment or equity in an existing house."
Lower interest rates will take some of the sting out of adjustable rate loans that are resetting higher. Those resets have been causing a lot of pain for struggling homeowners lately. For most people, fixed-rate mortgages are still the way to go, McBride says, because they offer peace of mind and permanent affordability.
What about car loans?
They aren't really affected much by what the Federal Reserve does. And beyond that, McBride says, a low-interest rate environment doesn't make cars and trucks much more affordable. "The best advice is to shop around to get the best rates before you go to the dealership," McBride says, "and then brush up on your negotiating skills."
How about the interest on credit cards?
Those rates are always relatively high. But they're falling and should continue to drop for a while. The average rate on a standard card is 13.4 percent, down from 14 percent in December, when the Fed started cutting interest rates. McBride says there can be a lag of up to 90 days before those lower rates are reflected in credit card statements.
Are more interest-rate cuts likely to occur?
The Fed has been moving very aggressively lately — making an unprecedented three-quarters of a point cut on Jan. 22, followed by a half-percentage point cut Wednesday. It's a measure of how serious Fed Chairman Ben Bernanke is about problems in the credit market and the threat of a recession. The Fed's main policy-setting interest rate has been pushed down to 3 percent. Whether additional cuts follow depends on what happens in the broad economy, and, to a lesser extent, on the financial markets.
In its statement Wednesday, the Fed left the door open to additional rate cuts by noting that despite everything it has done recently, "downside risks to growth remain." The Fed will be looking closely for signs of deterioration in the job market. If the economy starts to shed jobs rather than generate new ones, the Fed may be cutting rates for the foreseeable future.
Any particular advice for people nearing retirement age?
Whether times are good or bad, financial advisers have the same fundamental advice for people nearing retirement age: Their investments should be less risky than when they were younger. Their portfolios should be weighted more to bonds and fixed-income assets, such as CDs and money market funds, than to stocks. In a period of market volatility, the risks (and potential rewards) of stocks become even more pronounced. So if you need a predictable source of income within a few years, your exposure to the stock market should be limited.
Interest-rate cuts aside, could economic conditions have an impact on the availability of jobs?
Most definitely. The pace of job creation has already slowed. The unemployment rate jumped in December from 4.7 percent to 5 percent and the economy created a paltry 18,000 jobs, the slowest pace in more than four years. The Labor Department's next employment report will be released Friday. It could reveal a great deal about the direction of the economy. A primary concern in all the recent financial turmoil is that struggling banks will drastically scale back lending to businesses. Companies won't have the capital to invest. They'll become nervous or even fearful about the future, and they'll lay off workers. If we see evidence of that in the next jobs report, worries about a recession will escalate.
What about the White House and Congress? Are they still working on a stimulus plan –- and is that going to put money in my pocket?
There's an unusual sense of urgency in Washington to get some kind of stimulus package passed.
Just about everyone in Washington, whether Democrat or Republican, favors some kind of quick rebate to taxpayers.
President Bush and House leaders favor a plan that would send rebates of $600 to individual taxpayers and up to $1,200 to households, along with tax breaks for businesses to invest in new equipment. The House passed its $146 billion stimulus package on Tuesday.
Senate lawmakers, meanwhile, are working on a slightly different stimulus plan. The $156 billion bill includes smaller rebates that would go to more Americans. Individuals would receive $500 and couples would receive $1,000. Like the House plan, the Senate bill would offer an additional $300 per child.
The Senate bill would also extend unemployment insurance, and senators are expected to try to add more proposals, including an increase in food stamps, heating assistance for low-income Americans and more spending on infrastructure projects.
President Bush has warned the Senate against "loading" up the bill because it would slow down the effort to jump-start the economy as soon as possible. Any differences between the two chambers' bills will have to be hammered out before a final package can be signed into law and rebate checks can be mailed.
One more obstacle: tax season. The IRS wouldn't be able to process the payments until after the April 15 tax filing deadline.