Obama Talks Education, Faith, Race
Obama Talks Education, Faith, Race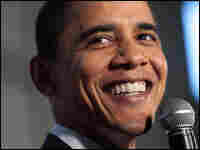 In advance of Saturday's South Carolina Democratic primary, Illinois Sen. Barack Obama says he would increase federal funding and place "great emphasis on poor urban and rural school districts" in an effort to improve the nation's public education system.
Obama is canvassing South Carolina, which reportedly has the highest school drop-out rate in the nation.
In an interview with NPR's Farai Chideya, the Democratic presidential hopeful lays out his plan for bettering the nation's public schools, addresses persistent rumors about his religious faith and considers the role that race is playing in his bid for the White House.
The following is a transcript of the interview:
Chideya: Last night, we were in Dillon, S.C. — it's part of the "corridor of shame" — and you have made a real point about talking about the troubled schools. You were just there yesterday, as well. So can you break down in really simple, really specific terms what would change if you became president?
Obama: Well first of all, we would start investing in early childhood education at a much more significant level all across the country — in poor communities like the corridor of shame and Dillon in South Carolina. But obviously there are corridors of shame all across the country. And one of the most important things to closing the achievement gap, I believe, is making sure that children are prepared when they start school. So that would be step No. 1.
Step No. 2 would be to pay teachers more but also give them more professional training and support so that they are able to work with kids more effectively in the classroom.
Step No. 3 would be to invest in after-school programs and summer-school programs that are particularly important for low-income students because they may not have supplementary activities during the summer. They don't have a quiet place to do their homework. And that would all cost about $18 billion a year — a significant increase in federal funding, focused on schools all across the country, but with a great emphasis on poor urban and rural school districts that really need resources.
Senator, how are you going to find that money when the economy is so bad, and when the country is in debt and deficit mode?
Well, what we're going to do is, we are going to delay or cut programs that I don't think are as high a priority. And we've identified a range of ways that we can save money in terms of how we purchase goods by the federal government. There are some programs related to NASA, for example, that we would not eliminate — but defer — so that the spending is spread out over a longer period of time. There are a host of programs at the federal level that I think are less of a priority than making sure that our kids are getting a good start in life.
Earlier this week, we were on the campus of Benedict College, talking to students about the election. And we talked to one young, undecided voter named Tynesha Williams. We wanted to play you a piece of what she had to say: "I would vote for Hillary because she has more experience and she's been around the White House for so long. And Sen. Obama, he kind of scares me because he hasn't had as much experience, but he seems like a politician I could relate to. So, that's why I'm kind of leaning toward him but not exactly sure." How do you respond to that?
Well, this is an argument I think our opponents have been making throughout the campaign. It is erroneously based on this notion that I just showed up at the Democratic Convention of 2004. I've been working in public service for over two decades now — as a community organizer on the streets of Chicago, helping low-income communities find jobs for the unemployed; as a civil rights attorney battling in the courts to make sure that people had access to polling places and weren't discriminated against on the job; and as a state legislator before I got to the United States Senate, providing health insurance for people who didn't have it, passing the first law in the nation that required videotaping of confessions and interrogations in capital cases, providing tax relief for people who needed it. The experience that I brought before I got to the United States Senate was on issues that the American people are concerned about. And since I've been in the United States Senate, I've moved forward on everything from arms control to alternative energy.
So the key here is not the experience issue. The question is who's got the judgment and the ability to bring people together to push back against the special interests that dominate Washington, to connect with the American people to listen to them and inspire them so that we can mobilize a working majority to move forward on the agenda that I think most Americans want to see.
So there's been a lot of debate over a report from Insight magazine and Fox News saying that when you were a child living in Indonesia, you attended a madrassa or Islamic school. CNN — among other places — has worked to unpack or debunk that issue. How do you respond to that question coming up again and again in the news?
The unfortunate thing is that it gets repeated and it's completely false. I went to a secular school in Indonesia, which happens to be a country that is majority Muslim. I am a Christian, have been a Christian, and we're now seeing e-mails that are being distributed repeatedly as part of a smear campaign or political strategy, which insults not only me and my Christian faith but also tries to stir up anti-Muslim sentiment.
And I think that's the kind of politics that people are weary of. It doesn't solve problems. It doesn't focus our attention on health care or education and what we're going to do about the troops in Iraq. That's the kind of campaign I intend to run — one that focuses on the problems that we face, and I'm confident that the American people will understand that these kind of scurrilous reports and rumors have been debunked, and we will continue to debunk them.
Finally senator, we've talked a lot on our show over the remarks by President Bill Clinton saying that your run was somewhat of a fairy tale. Some people we've talked to on-air and members of our audience felt as though the president's comments had racial implications. Some people said, "No, not really." Did you specifically read his comments as being racially motivated?
No, I didn't think they were racially motivated. They were just wrong. The president actually was referring to my opposition to the war in Iraq and suggesting somehow that I had not consistently opposed to the war in Iraq. Everybody who has looked at my track record knows that from 2002, when I made a speech in front of 3,000 people saying the war in Iraq was a mistake, until today I have consistently been opposed to this war. So the president, I think, was massaging the truth a little bit. And that's part of standard Washington politics.
But I think, at this point, we just want to move forward and make sure that we are talking about the issues that people are struggling with — particularly an economy right now that is teetering on the edge of recession and is making it more difficult for people to stay on the job, stay in their home and do the kind of things they need to do to raise their families.