Timeline: A Wild Week on Wall Street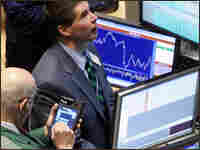 Stephen Chernin/Getty Images
Global financial markets appear to have survived a wild week without collapsing. But the volatility highlights the fragile investor psychology, as fears of a U.S. recession grow. It has also shown how quickly those fears can spread, affecting investors around the world.
Here, a timeline of the past week's economic troubles — and the steps that helped allay investor worries:
Thursday, Jan. 17:
Commerce Department data released at 8:30 a.m. shows a 14 percent drop in U.S. home construction, the largest dip in 16 years. Coupled with increasing speculation that the economy is headed for a recession — fueled by fears about the dismal housing market — the data signals to investors that bad times are indeed coming.
An hour-and-a-half later, Federal Reserve Chairman Ben Bernanke delivers testimony to the House Budget Committee. Bernanke discusses a stimulus proposal that could help the economy in the short term; investors continue to sell.
The Dow Jones Industrial Average plunges more than 300 points and closes at its lowest level since March.
Friday, Jan. 18:
After an initial rally early in the day, it's another lousy close on Wall Street.
Meanwhile, President Bush makes a move to quell investor concerns by describing the outlines of a $145 billion economic stimulus package, but it lacks details. When Democrats counter with their own suggestions, it appears a short-term economic package might get bogged down by partisan politics.
Monday, Jan. 21:
The U.S. markets are closed in observance of the Martin Luther King Jr. holiday. But global markets remain open and, time zone by time zone, they respond to what's been happening on Wall Street. In Europe, Asia and India, investors sell amid worries over an American recession. (News reports later reveal a rogue futures trader contributed billions of Euros to a major sell-off in France.)
As it becomes clearer that markets in the U.S. are likely to drop significantly when the trading day opens on Tuesday, Bernanke calls for an emergency meeting of the Federal Reserve Open Market Committee, which sets U.S. monetary policy.
Tuesday, Jan. 22:
An hour before the markets open, the Fed announces it is lowering a key interest rate by three-quarters of a percent. Asian and European markets respond favorably.
Later, Treasury Secretary Henry Paulson says Democrats, Republicans and President Bush have talked and all want a short-term, fast-acting economic stimulus bill as soon as possible.
The U.S. market does falls dramatically as the trading day opens — the Dow Jones fell 465 points in the early part of the day — but it eventually rebounds. The Dow finishes down 128 points.
Wednesday, Jan. 23:
The Dow drops again as the trading day begins — and continues to fall throughout the day — but then gains nearly 300 points by the closing bell.
Thursday, Jan. 24:
President Bush and House Democrats announce a tentative deal on a $150 billion economic stimulus package that includes tax rebates for individuals and families, business tax cuts and help for troubled homeowners. The announcement reassures investors that Washington policymakers are serious about wanting to jumpstart the economy as soon as possible. The markets continue to rebound on Wall Street.
While a short-term crisis seems to have been averted over the course of the past seven days, the long-term economic fundamentals have not changed: the credit crunch, a deeply troubled housing market, and structural problems throughout the financial system.
Written by Heidi Glenn, with reporting by Adam Davidson.