What's at Stake in the Florida Primary?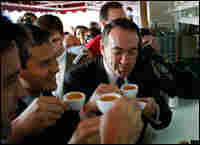 Did You Know?
Florida is a closed primary state, meaning that only voters registered as a Republican or Democrat can participate.
Although Florida will hold its primary on Jan. 29, the state allows voters to go to the polls early.
The Republican presidential candidates approach Florida's primary on Tuesday with no clear front-runner among them. And that makes Florida — which will award the winner of the GOP primary all 57 of its delegates — a coveted prize.
Democratic candidates have largely avoided campaigning in the state, since the national party stripped Florida of its delegates as punishment for moving up its primary to January.
But after South Carolina, where Illinois Sen. Barack Obama won 55 percent of the vote, New York Sen. Hillary Clinton used her concession speech to name Florida as the next battleground.
While there are no party delegates at stake there, Florida's Democrats still have the chance to vote — and a victorious Democratic candidate could receive a momentary boost from any media coverage.
Candidates: Former New York Mayor Rudolph Giuliani; former Arkansas Gov. Mike Huckabee; Arizona Sen. John McCain; Texas Rep. Ron Paul; former Massachusetts Gov. Mitt Romney
What's at Stake: McCain has been campaigning heavily in the Sunshine State, hoping to capitalize on his primary wins in New Hampshire and South Carolina — a state often seen as critical to determining the GOP nominee. But since Florida's contest is open only to Republican voters, McCain will not be able to rely on the support of independents or crossover votes from Democrats, as he did in New Hampshire.
Romney is the best financed candidate in the GOP field, pouring much of his own money into advertisements in Florida's expensive media market. On campaign stops, he highlights his business background and vows to fix what he calls a broken Washington, D.C.
Giuliani has hedged his entire campaign strategy on Florida, hoping to win there with the support of the state's large number of former New Yorkers, then ride the momentum to victory on Super Tuesday, Feb. 5, in delegate-rich states such as New York, New Jersey and Connecticut. But that strategy looks tenuous as polls show Giuliani's once-sizable lead in Florida has evaporated. Recently, Giuliani has shifted his campaign message, focusing less on his leadership after the attacks of Sept. 11, 2001, and more on his role in bolstering New York's economy.
Huckabee, who won the Iowa caucuses and finished a very close second in the South Carolina primary, has scaled back his efforts in Florida. Instead, he is targeting his limited resources on several less expensive Southern states that vote on Feb. 5.
Issues: The Florida economy is largely built on real estate. With the housing crisis in full swing and mounting fears of a nationwide recession, all the candidates have turned their attention to the economy.
Florida's Republican voters have told NPR that immigration, the war in Iraq and national security are also important to them.
From NPR Staff Reports and the Associated Press