Slow Cookers Yield Rich Flavors in No Time
About the Author
April Fulton is a freelance writer in Washington, D.C., specializing in health care and food. Her freelance work appears in The Washington Post, Bethesda Magazine and Washington SmartCEO Magazine.
There's something incredibly satisfying about coming home hungry on a snowy winter's day and breathing in the savory scent of pork braised in wine — especially when it's ready to eat when you walk in the door.
That's the beauty of the slow cooker.
I'm not sure why it took me so long to buy one. Perhaps it was memories of stringy, bland pot roasts coming out of the gaudy orange Crock-Pot of my 1970s childhood. (Sorry, Mom.)
But despite my doubts, I started thinking about how delicious and convenient a Cuban black bean stew would be for a no-fuss dinner — if I only had the guts to leave my oven on all day while I was out.
Soon enough, I bought a 6 1/2-quart stainless-steel slow cooker, and I haven't looked back.
A sunny, lemon-scented red lentil soup, chicken and garlic stew, cinnamon beef barbecue, lamb shanks with dried apricots, oatmeal with dried blueberries, cardamom-scented rice pudding, you name it. If it can stand up to long, slow, moist heat — i.e., braising — I put it in the slow cooker.
With a little planning — and in the amount of time it takes to get pizza delivered — you can prep three sophisticated yet casual main courses for a Super Bowl party (recipes below). The slow cooker does all the time-consuming work.
Plus, there's no need to worry about burning the house down or overcooking your meal, because these days, most slow cookers automatically switch to warm when the cooking time is up.
While there are dozens of slow-cooker cookbooks available to accommodate a variety of tastes and skill levels, practically any braising recipe can be adapted to the slow cooker.
All it takes is a few minutes in the morning to chop the vegetables, brown a piece of tough meat that has a decent amount of fat on it, such as pork shoulder, lamb shanks or brisket, add the liquid and seasonings of your choice to the pot, cover it and turn it on low.
Six to eight hours later, you've got a complete meal. I've found that unless you're making a stew, you should use about 50 percent less liquid than a braising recipe requires because there is less evaporation in a slow cooker than in the oven.
Although the braising technique has been around for centuries (think Moroccan tagines), the gadget known as the slow cooker began life as a humble bean pot in the 1970s, says Vikki Slavin, a marketing manager for Jarden Consumer Solutions, which owns the Crock-Pot brand.
The bean cooker was a brown, glazed ceramic dish fused inside a white-steel housing, a cord and an aluminum lid. As consumers began testing them, the company redesigned the housing and added handles and a glass lid so users could see inside, and developed more diverse recipes.
Nearly four decades later, the slow cooker includes features such as automatic timers, removable ceramic pots for easy cleaning, hinged lids that stay tight to prevent spills when transporting, and specialty models that range in size from 2 to 8 quarts and in price from about $30 to more than $150.
Perhaps the slow cooker is shedding its dowdy reputation because celebrity chefs like Emeril Lagasse and Paula Deen are catching on to the fact that it's a convenient but tasty way for home cooks to infuse tons of flavor into inexpensive cuts of meat.
Even my Mom is dragging out her Crock-Pot again, swapping the Yankee pot roast for a hoisin-glazed pork loin. Go, Mom!
Lemon-Caraway BBQ Pork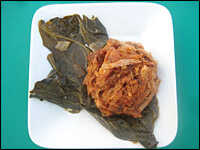 This recipe is proof that caraway seeds are not just for rye bread; they're also a tasty accompaniment to pork, as often showcased in Eastern European braises. The tangy seeds, combined with the brightness of lemon and vinegar in a simple-to-make, North Carolina-inspired barbecue sauce, may make you rethink that bottled stuff in the fridge. It's not necessary to brown the pork before cooking in this case because there is so much flavor in the sauce, but you certainly can. I like to serve this dish with cornbread and collard greens.
Serves 12 to 14
6 to 7 pounds pork shoulder, bone-in
2 1/2 cups ketchup
6 tablespoons chili sauce
6 tablespoons red wine vinegar
Zest of 1 1/2 lemons
6 tablespoons fresh-squeezed lemon juice
1 tablespoon caraway seeds
1 tablespoon chili powder
6 tablespoons dark brown sugar
3 cloves garlic, pressed
3 medium yellow onions, sliced
In a medium mixing bowl, combine ketchup, chili sauce, vinegar, lemon zest and juice, caraway seeds, chili powder, brown sugar and garlic. Set aside.
Place onions in bottom of slow cooker. Trim pork shoulder of some of the fat and arrange over the onions as evenly as possible. Pour ketchup mixture over top and cook on low for about 8 hours or until meat pulls easily off the bone with a fork and internal temperature reaches 145 degrees.
Let cool a little and shred the meat by pulling it with two forks in opposite directions on a cutting board. Put the meat back in the sauce and stir.
If making a day ahead, cool to room temperature before covering pot with foil and refrigerate overnight.
Before serving, scoop the hardened fat particles off the top of the cold meat and reheat in a 300 degree oven until hot — about 30 minutes.
Cinnamon-Orange Brisket
The cinnamon-spice flavors of Cincinnati chili complement slow-cooked beef perfectly. This recipe adds a touch of orange and molasses to enhance the cinnamon's sweetness without making it too cloying. I suggest serving this dish with rolls, green beans and macaroni and cheese.
Serves 12 to 14
4 pounds first-cut brisket (I prefer the first-cut because it's smaller and leaner than a whole brisket, and it fits neatly into the slow cooker without cutting)
4 tablespoons canola oil
3 medium yellow onions, thinly sliced
6 cloves garlic, peeled and halved
2 oranges, sliced thinly with skin on, plus half an orange
2 sticks cinnamon
1 tablespoon ground cumin
1 tablespoon ground allspice
1 tablespoon ground cloves
2 tablespoons kosher salt
2 teaspoons black pepper
3/4 teaspoon cayenne pepper
4 Tablespoons apple cider vinegar
3, 15-oz. cans Italian plum tomato sauce
1 1/2 ounces unsweetened chocolate, roughly chopped
2 tablespoons molasses
Salt and pepper to taste
Combine cumin, allspice, cloves, salt, and black and cayenne peppers with a fork in a small bowl and set aside.
Trim brisket of some of the fat. Sprinkle brisket on both sides with salt and pepper. In large frying pan or Dutch oven, heat oil over medium-high heat for a few minutes until it shimmers, and sear brisket on both sides until the outside develops a good brown crust — about 3 minutes per side.
Set brisket aside but leave the oil in the pan.
Turn heat down to medium and fry onions about 6 minutes until they begin to soften and turn brown. Add garlic halves, cook and stir about 3 minutes more until they start to brown. Pour contents of the pan into the bottom of the slow cooker pot and place browned brisket on top.
Return pan to high heat, and deglaze it by adding the cider vinegar and stirring vigorously with a wooden spoon to get up all the browned bits. Reduce about 2 minutes until it just starts to thicken, then pour vinegar mixture over meat in the slow cooker pot. Sprinkle meat with chopped chocolate and molasses.
Pour tomato sauce over the brisket and then 1/2 of the spice mixture. Arrange orange slices over the beef, then sprinkle with the other half of the spice mixture. Shove cinnamon sticks deep into the sauce.
Squeeze juice of the remaining half orange over the contents of the slow cooker.
Cover and cook on low about 8 hours or until a fork can easily pull through the meat.
Remove lid and let cool a bit. Discard orange slices, cinnamon sticks, large garlic pieces and any obvious chunks of fat. Place the meat on a cutting board and shred by pulling it with two forks in opposite directions. Put the shredded meat back in the sauce and stir.
If making a day ahead, let brisket cool to room temperature, then cover entire pot with foil and refrigerate overnight.
Before serving the next day, reheat the brisket in a large casserole dish in a 300 degree oven until hot — about 30 minutes.
Lamb Shanks with Dried Apricots
This is a recipe I adapted for the slow cooker from a braising recipe my friend Amy gave me. I like to serve it over couscous or polenta with a green salad on the side.
Serves 12
6 pounds lamb shanks, trimmed of visible fat and silver skin
8 tablespoons olive oil
2 large onions, sliced
2 large carrots, peeled and chopped or 16 baby carrots, chopped in thirds
2 cups pitted dried apricots or other fruit such as raisins or prunes
2 large heads of garlic, halved horizontally
1/2 teaspoon cardamom seeds from about 10 crushed green pods
5 cups chicken or beef stock
Sprinkle lamb with salt and pepper. In a Dutch oven, heat oil over medium-high heat until it shimmers and brown lamb on all sides. This should take about 10 minutes.
Set lamb aside on a jellyroll pan to catch the drips. Spoon off any visible fat.
Saute onions and carrots for about 5 minutes over medium heat in the same pan you used to brown the shanks. Add the fruit, garlic and cardamom to the pan, stirring, and cook for about two minutes. Add the stock and bring to a boil.
Pour the stock, vegetables and fruit into the slow cooker and carefully place the shanks on top.
Set slow cooker for 8 hours on low.
Within an hour of serving, turn cooker off, take out shanks to cool on a cutting board and spoon the fat off the top of the pot. If desired, shred the meat off the bones with two forks — it should come off very easily — and place the meat back in the pot with the sauce. Discard the bones or reserve for lamb stock, storing in a plastic bag in the freezer.
Turn the pot back on to low or warm until ready to serve.