Florida Primary: Big Prize for GOP Hopefuls
Tuesday's Florida primary is a major focus for Republican presidential hopefuls, who are vying for a big chunk of delegates. And Sen. Hillary Clinton seeks to revive the relevance of a discarded Democratic contest.
STEVE INSKEEP, host:
It's MORNING EDITION from NPR News. Good morning. I'm Steve Inskeep.
Florida voters go to the polls tomorrow to choose the winner of the biggest prize so far in the Republican presidential contest. Hundreds of thousands of Floridians have already voted, but candidates are working hard to get the votes that remain, as NPR's Scott Horsley reports.
SCOTT HORSLEY: Mitt Romney's stock has been rising in Florida, even as the Dow Jones Index has been falling. During a visit to a flight simulator factory outside Tampa this weekend, Romney touted his background as a successful business consultant and private equity investor as just what's needed to rev up the sputtering U.S. economy.
Mr. MITT ROMNEY (Former Republican Governor, Massachusetts; Presidential Candidate): Now, I've spent my life in the real economy. I know what it's like to have a job, and I think it's helpful to have a president who knows what it's like to work in the real economy.
(Soundbite of cheering)
HORSLEY: That message appealed to Christine Thompson(ph), who has already checked her early voting ballot for Romney. She came to the factory just to see him in person.
Ms. CHRISTINE THOMPSON: I'm a - been a small business owner. I know what it's like to hire people and to have to fire people and to deal with the taxes and to know somebody who's been in business, who knows how to run a business. I trust that more than a politician.
HORSLEY: Florida voters are getting plenty of personal attention from politicians, but there is no way to shake hands with all 18 million people in the state. So Romney has also been pushing his economic message with television ads in both English and Spanish.
(Soundbite of ad)
Unidentified Man: (Spanish spoken)
HORSLEY: According to the Nielsen Company, Romney had run nearly 4,500 TV ads in Florida through last week. That's almost 10 times as many ads as John McCain has run here. But the Arizona senator has picked up a string of high-profile endorsements in Florida, including Republican Governor Charlie Crist, who called McCain the best man for the job.
Governor CHARLIE CRIST (Republican, Florida): He is a leader on economic issues, and safety and security, which are so important to the people of my state and the people of our country at this critical time in our nation's history.
HORSLEY: Despite all the recent focus on the economy, McCain has tried to change the subject. He hosted a roundtable discussion in Tampa on national security, an issue where he feels he has the edge.
Senator JOHN McCAIN (Republican, Arizona; Presidential Candidate): I know that we are facing difficult economic times. And I still believe the transcendent challenge of the 21st century is that of radical Islamic extremism.
HORSLEY: McCain talked, as he often does, about the many active-duty military and veterans in Florida. His experience is reassuring to Terry Varvle(ph), who wore a Vietnam veterans pin on his lapel.
Mr. TERRY VARVLE (Vietnam Veteran): I feel safe with someone that knows the world theater, and not the one where they say on-the-job trained. And that's what I feel like with the other candidates.
HORSLEY: Former New York Mayor Rudy Giuliani offered his own capsule summary of the race in a speech to Sarasota Republicans. He says Romney is attacking McCain for a shortage of economic know-how, while McCain is attacking Romney for a lack of national security experience.
Mr. RUDY GIULIANI (Former Republican Mayor, New York; Presidential Candidate): The choice is clear. Floridians deserve someone who's been tested and proven in both areas - and that's me.
(Soundbite of applause)
HORSLEY: All of the Republican candidates, including former Arkansas Governor Mike Huckabee, have another big day of Florida campaigning ahead.
Political analyst Susan MacManus of the University of South Florida says much of their focus will be along Interstate 4, between Tampa and Orlando, an area that often tips the balance between the social conservatives of Florida's northern panhandle and more moderate voters.
Professor SUSAN MacMANUS (University of South Florida): Look at all these candidates and where they are in Florida today, and they're clumped right here in that I-4 corridor that we lovingly say in our state is the highway to heaven for politicians.
HORSLEY: Victory here in Florida could also serve as a high-speed on ramp to next week's contests in nearly two dozen states.
Scott Horsley, NPR News, Tampa.
NPR transcripts are created on a rush deadline by Verb8tm, Inc., an NPR contractor, and produced using a proprietary transcription process developed with NPR. This text may not be in its final form and may be updated or revised in the future. Accuracy and availability may vary. The authoritative record of NPR's programming is the audio record.
What's at Stake in the Florida Primary?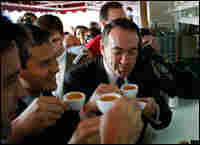 Did You Know?
Florida is a closed primary state, meaning that only voters registered as a Republican or Democrat can participate.
Although Florida will hold its primary on Jan. 29, the state allows voters to go to the polls early.
The Republican presidential candidates approach Florida's primary on Tuesday with no clear front-runner among them. And that makes Florida — which will award the winner of the GOP primary all 57 of its delegates — a coveted prize.
Democratic candidates have largely avoided campaigning in the state, since the national party stripped Florida of its delegates as punishment for moving up its primary to January.
But after South Carolina, where Illinois Sen. Barack Obama won 55 percent of the vote, New York Sen. Hillary Clinton used her concession speech to name Florida as the next battleground.
While there are no party delegates at stake there, Florida's Democrats still have the chance to vote — and a victorious Democratic candidate could receive a momentary boost from any media coverage.
Candidates: Former New York Mayor Rudolph Giuliani; former Arkansas Gov. Mike Huckabee; Arizona Sen. John McCain; Texas Rep. Ron Paul; former Massachusetts Gov. Mitt Romney
What's at Stake: McCain has been campaigning heavily in the Sunshine State, hoping to capitalize on his primary wins in New Hampshire and South Carolina — a state often seen as critical to determining the GOP nominee. But since Florida's contest is open only to Republican voters, McCain will not be able to rely on the support of independents or crossover votes from Democrats, as he did in New Hampshire.
Romney is the best financed candidate in the GOP field, pouring much of his own money into advertisements in Florida's expensive media market. On campaign stops, he highlights his business background and vows to fix what he calls a broken Washington, D.C.
Giuliani has hedged his entire campaign strategy on Florida, hoping to win there with the support of the state's large number of former New Yorkers, then ride the momentum to victory on Super Tuesday, Feb. 5, in delegate-rich states such as New York, New Jersey and Connecticut. But that strategy looks tenuous as polls show Giuliani's once-sizable lead in Florida has evaporated. Recently, Giuliani has shifted his campaign message, focusing less on his leadership after the attacks of Sept. 11, 2001, and more on his role in bolstering New York's economy.
Huckabee, who won the Iowa caucuses and finished a very close second in the South Carolina primary, has scaled back his efforts in Florida. Instead, he is targeting his limited resources on several less expensive Southern states that vote on Feb. 5.
Issues: The Florida economy is largely built on real estate. With the housing crisis in full swing and mounting fears of a nationwide recession, all the candidates have turned their attention to the economy.
Florida's Republican voters have told NPR that immigration, the war in Iraq and national security are also important to them.
From NPR Staff Reports and the Associated Press