The Next Wave of Female Activism
From the Left and the Right, New Voices on Women's Issues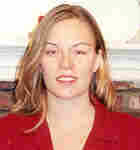 On average, young women today are better educated and more likely to be employed than their counterparts 30 years ago, thanks in no small part to the women's movement. What's the next battle for the cause of women? NPR's Neal Conan and guests discuss new voices in the women's movement.
Guests:
Amy Richards, one of the co-founders of Third Wave -- a national organization of young feminist activists -- and co-author of the book Manifesta: Young Women, Feminism, and the Future. She's writing a new book: Grass Roots: A Field Guide to Feminist Activism
Carrie Lukas, director of policy for the Independent Women's Forum
Crystal Lander, campus program director for the Feminist Majority -- oversee all the grass roots organizing on college campuses. Lander is a former grass roots organizer for International issues for Planned Parenthood.
Related NPR Stories
Web Resources