Plucked, Bowed, and Hammered Strings Onstage in Florida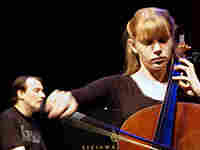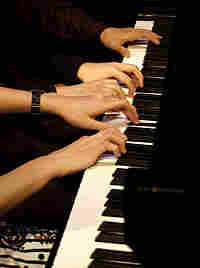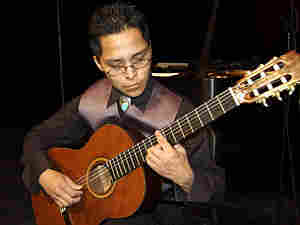 This week, from the Sunrise Theatre in Fort Pierce, Florida, a Navajo guitarist from Utah plays Tarrega, a twelve-year-old Black-Belt pianist tackles Rachmaninoff, and a 'Six-Handed Monster' trio of pianos plays music from West Side Story.
Eighteen-year-old Emmanuel Gray, Jr. discovered the guitar through group lessons at his middle school.
"My older sister took the music class and she inspired me," he says. "At first it was hard to learn guitar, but after a while I couldn't put it down." Amazingly, to this day, Gray has never had a private guitar lesson. "I've learned mostly by using a book and pushing myself to learn," he explains. In addition to playing guitar, Gray also composes. "I try to put the beauty of where I live into my music," he says. He hopes to inspire other kids to take up music. Gray plans to study music education in college, and then return home to the Navaho reservation at Monument Valley to teach. He plays Recuerdos de Alhambra by Francisco Tarrega.
Anna Litvinenko followed in her mother's footsteps by taking up the piano. But she then switched to her father's instrument, the cello, after he showed her a video of the legendary cellist Jacqueline DuPre. These days the 13-year-old is accomplished on both instruments.
She loves to practice, and finds it amusingly ironic that her father, who is both her teacher and the principal cellist at the Miami Symphony, often harps on her to quit practicing so he can watch TV.
"But I'll tell him he should turn off the TV so I can practice," says Litvinenko. "I'd rather practice than watch TV!" The young Litvinenko is also a member of the Miami Symphony. She plays At the Fountain by Carl Davidoff.
Fifteen-year-old Matthew Lipman took up the trumpet after he fell in love with an eighth-grade girl who played the instrument. But love can be fickle. Eventually Lipman switched to the viola after meeting a girl who played that instrument. The girl moved on, but Lipman stayed true to his viola. He plays music from William Walton's Viola Concerto.
Young Taylor Tyson can bust a board in two. She's a Deputy Black Belt in Tae Kwon Do. She also has significant chops at the keyboard, and won $4,000 playing Chopin in a Las Vegas competition. Tyson is also busy with the charitable foundation her parents organized that provides musical instruments money for music lessons to needy kids in their area. She plays the Prelude in E-flat major, Op.23, by Rachmaninoff.
When pianists Wei Wei Hsu, Si Yi Fang and Kaisaer Ainiwaer all sit at one piano they call themselves "6HM," which stands for Six-Handed Monster. "Playing six-hand piano is fun because it's so energetic and loud," says Ainiwaer.
Fun as it may be, playing six-hand piano poses several challenges as well. "We all have different playing styles, which is challenging," explains Hsu. "Si Yi has a more delicate sound, Kaisaer has a louder sound, and I'm the one who is always rushing. It was hard to find a balance at first."
The trio had to work through a few physical issues as well. "We share such a tight space, and our hands are always fighting with each other," explains Fang. "We're all used to letting our elbows move all over the place, but in this situation we had to make compromises to work together in the small space."
The students met in Michigan at the Interlochen Arts Academy. They perform an arrangement of "America" from West Side Story by Leonard Bernstein.
This show originally aired on May 16, 2007.