Photos of Caskets Bearing U.S. Soldiers Hit the Web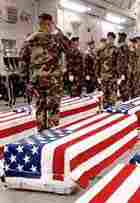 NPR's Madeleine Brand examines the controversy over photographs of military caskets returning from Iraq.
Photographer Tami Silicio, working for an airline contractor in Kuwait, lost her job for giving a photo of caskets containing the remains of U.S. soldiers killed in Iraq to The Seattle Times newspaper.
Now her original photos and hundreds more, released by the U.S. Air Force, are featured on a Web site called TheMemoryHole.org.