Saved by Tears, He Lived a Wonderful Life
Saved by Tears, He Lived a Wonderful Life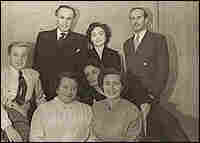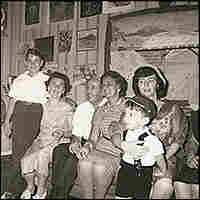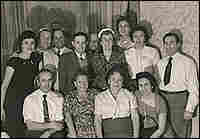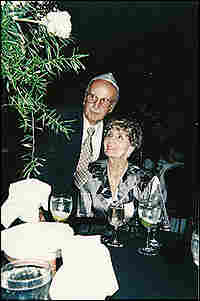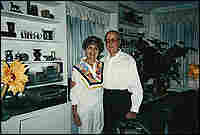 My grandfather Pinchas Isaak — in the States he went by Phil — was born in Leipzig, Germany, in July 1916, the seventh of eight kids. His father was a textile manufacturer who had emigrated from Poland; his mother traveled the surrounding cities to sell the factory's goods.
It wouldn't have been unusual for someone like Grandpa to grow up and join the family business. But at 21, he was unemployed and not troubling himself to look for another job. What he needed, desperately, was an escape route. He and his family were Orthodox Jews, which by then in Germany meant that life scared the life out of you every single day. Hitler had come into power on Jan. 30, 1933 — 75 years ago today. Five years later, in 1938, my grandfather's world was closing down around him.
By that time, he was living in Berlin. He'd gone there for a blind date with a girl named Martha and ended up marrying her; now he was living with her family while he figured out what do. His brother in London had arranged for someone to sponsor the two of them for immigration there. The trick was to figure out the right combination of rules, papers and favors to get out. Grandpa's Polish passport was no help. He figured out how to buy a transit visa to go to Paraguay from a travel agent who assured him that if he actually showed up in Paraguay, officials there would refuse him entry. Still, the papers would allow him to board a train out of Germany.
He and Grandma were one step closer to safety. Then the German police showed up at their door, unannounced.
They were rounding up and deporting Jewish men with Polish passports. When he left with them, Grandpa wasn't much thinking he was coming back. But the German police forgot to check his passport, and the bureaucrats at the desk were sticklers for paperwork. They kept him in jail overnight — whatever you do, he told my grandmother, DON'T bring my passport to the station — and released him in the morning. Poland had begun turning back trains at the border, and the German police didn't have space to hold him. Weeks later, the police came back. This time, my grandparents ran.
Somehow they made it onto a train, then south to Venice, Italy — the only bordering country that would grant entry to 1. a Jew with 2. a Polish passport and 3. a transit visit to Paraguay (who, 4., really was trying to go to London). They stayed six weeks with a decent stranger, a Schindler's List kind of guy, Grandma says. They waited for more papers, the kind that would allow them to fly to London. It was harder to get papers for two, but they had decided to stick together no matter what.
Grandma was pregnant with my dad by the time the papers finally arrived. They came with a hitch: the man got papers only for Grandpa. My grandmother was devastated, but she somehow managed to sob and wail her way past a consul agent, and they flew to London. Her crying may be the only reason I'm here. (You can hear my grandfather's version of the story in the video, recorded for the Shoah Foundation, on the left.)
My grandparents rode out the war in London, where Grandpa made greatcoats for British soldiers. My father remembers wandering outside every day after the whistles and explosions to see which buildings were still standing. On V-E day, Grandpa hoisted Dad on his shoulders and took him to Trafalgar Square, where they arrived in time to see all the lights come on after the long blackout. They saw in those lights the promise of a new life — one they had stolen from fate. My grandmother lost three brothers and her father to the Holocaust; Grandpa, most of his family.
They made their way to a brand-new Israel in 1949, then here to New York in 1953, where Grandpa would eventually run a hat factory. They led a modest and righteous life, following strict Orthodox tradition. As if they hadn't endured challenges enough already, God gave them a son and granddaughters who modernized quickly in the American way. Grandpa was disappointed, I'm sure, that I chose to live a more secular life; it's difficult indeed for the Orthodox to accept the loosening of standards they gave up so much to maintain.
I remember that on the morning of my bat mitzvah, after a record snowfall of two and a half feet in New Jersey, my 67-year-old grandfather refused to accept a ride to temple. The Orthodox won't use cars on the Sabbath, so he walked the mile and a half that morning through snow that was up to his knees. I was a little embarrassed, but I was also impressed; his was a special kind of resolve. And he never gave up trying to find ways for the two of us to relate; he taught me how to sing long prayers in Hebrew, taught me a thousand awful puns. He sure taught me what it means to believe in God. And he just loved to talk politics with me, loved to pitch stories for whatever show I was working on at the time. I like to say he taught me the difference between having a strong opinion and being judgmental.
Pinchas Isaak died on Jan. 11. He was 91. He'd survived so much — not just those war years, but cancer as well, a long time back. He was like a bull, really. In the end, his heart just reached the end of its lease, though his mind was just fine, thank you. We had dinner for the last time the night before the Iowa caucuses, and he was grilling me about the polls. I'd worried for years about how my grandma would cope when this day came. I must not have given enough credit for how a life like that would make you strong. Sunday, after the funeral, I grabbed her hand, and she told me, "It was a love affair. From the first day, to the last day."