Giuliani Campaign Never Really Got Going
Giuliani Campaign Never Really Got Going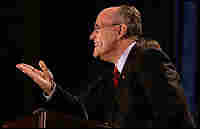 As former New York Mayor Rudolph Giuliani walked to the microphone last night, a woman from the crowd shouted, "It's not over."
But in Giuliani's case, it never really began. The 15 percent of the vote he received in Florida was, by far, his best showing in the primaries, following a string of embarrassing fifth- and sixth-place finishes for a man the media once anointed the front-runner.
It did not take long for the crowd to notice that Giuliani was speaking about his campaign in the past tense. "The responsibility of leadership doesn't end with a single campaign. If you believe in a cause, it goes on," he told supporters.
Giuliani is expected to drop out of the race Wednesday and endorse his friend John McCain.
It's not like supporters of Giuliani were not mentally prepared. Even his fans, like Ralph LaVallo of Longwood, Fla., had started to second-guess his strategy of skipping early contests.
"I question why he didn't run very hard in Iowa or run very hard in New Hampshire. I think that hurt him in Florida because people like to back a winner," LaVallo said.
The strategy might have worked if everything else had gone Giuliani's way and if his Republican rivals had not received so much momentum from their wins in other early primary states.
"During the month of January, not only was he under the radar, but he was six feet under. He was below Ron Paul," said Douglas Muzzio, a professor of public affairs at Baruch College in New York.
It started to seem like those early polls, which had Giuliani leading in just about every state, were an illusion based on the Giuliani legend.
The flesh and blood of Giuliani never seemed in sync with the mood of voters. He harped on Sept. 11and the fear of terrorism, even as polls showed that people were more concerned with the economy. He talked about victory in Iraq, even when the news from Baghdad moved off the front page.
By last night, Giuliani looked more relaxed and happy than he had seemed in days. He made jokes and smiled broadly. He did not spoil the mood by formally dropping out, and the crowd played along. A woman yelled out, "They'll be sorry." Giuliani blew her a kiss.
McCain Wins Florida's Republican Primary
Special Coverage of the Florida Primary from NPR News
More on Florida's Primary
Arizona Sen. John McCain won the Florida Republican primary on Tuesday, earning him the state's coveted 57 delegates and giving him his third January victory heading into Super Tuesday.
Former Massachusetts Gov. Mitt Romney was just about 5 percentage points back but received no dividend, given the state's winner-take-all rules. Romney had been in a virtual tie with McCain in late polls in Florida, where he had a strong debate performance Jan. 24 in Boca Raton. His message of business expertise in the face of looming recession had been seen as timely and effective.
But in the end, McCain was the choice of slightly more Republican voters who cited the economy as their top concern, according the exit polls by the Associated Press and TV networks.
Romney was the favorite among those who opposed abortion and illegal immigration, along with 40 percent of conservative Republicans. McCain attracted 25 percent of conservative Republicans, getting his boost from moderates, Latinos and older Floridians.
Former New York Mayor Rudolph Giuliani and former Arkansas Gov. Mike Huckabee came in a distant third and fourth place. The Associated Press is reporting that Giuliani plans to drop out of the race Wednesday to endorse McCain.
In his victory speech, McCain cited Ronald Reagan as his inspiration, stressing his conservative credentials and his commitment to national security.
"I intend to be the nominee of our party. I stand for the principles and policies that first attracted me to the Republican Party," McCain said.
Romney vowed to stay in the race and to fight what he calls the failed policies of a broken Washington. Speaking to supporters in St. Petersburg, he said, "At a time like this, America needs a president in the White House who has actually had a job in the real economy."
Florida's No-Delegate Democratic Primary
New York Sen. Hillary Clinton easily won Florida's Democratic primary — although no delegates were actually awarded, and the contest itself was not sanctioned by the Democratic National Committee. The committee acted after Florida defied both national parties' rules and moved its primary into January. The candidates also respected a committee ban on campaigning in Florida — which nonetheless listed their names on the ballot.
The Clinton campaign called its 50-percent share of the vote a major victory (Obama had about 33 percent) and accused the Obama camp of violating the ban on campaigning by including Florida in a national ad buy. The Obama camp noted that Clinton had appealed to Floridians over the weekend by promising to have her delegates vote to seat the Florida delegation at the national meeting in Denver in August.
Record Voter Turnout in Florida
Voting was brisk throughout the day. Even before primary day, more than 1 million Florida residents, or about 10 percent of all those eligible, participated through absentee ballots or early voting. (Florida is one of several states to allow early voting at select polling stations.)
In the last Florida GOP contest in 2000, 700,000 Republicans voted. This year, about 1.9 million did. Democratic turnout was also up dramatically from 2000 and 2004, with at least 1.7 million voting on that side.
While the close presidential race may have helped turnout, a local proposition on property taxes also fueled voter traffic.
Florida as Giuliani's Swan Song
With four Republican front-runners going into the primary, the contest became the candidates' last chance to winnow the field before the race opened up into a broader national contest.
Florida also became the sole hope for Giuliani. After largely ignoring the other early voting contests in Iowa, New Hampshire and South Carolina, Giuliani staked his entire campaign on Florida — with the hope that the state's large number of ex-New Yorkers would support their former mayor.
But even an abundance of Yankee baseball references could not boost his candidacy, as his rivals touted their early victories and the resulting media coverage. Giuliani's lead in the national polls had evaporated before the end of 2007, and his numbers in Florida followed suit.
Floridians did not even flock to him when he proposed a hyper-local issue: the creation of a National Catastrophe Insurance Fund to help Floridians who could no longer afford homeowner's insurance premiums after the state's last two hurricanes.
After his disappointing third-place finish, Giuliani told supporters that "the responsibility of leadership doesn't end with a single campaign. It goes on and you continue to fight for it."
While Giuliani's star power dimmed over the last few weeks, Huckabee suffered from a lack of money. His campaign could not compete against McCain or deep-pocketed Romney, who has been advertising in Florida since March 2007.