Waters Cites 'Proposals' in Clinton Backing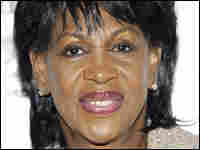 Longtime California Congresswoman Maxine Waters has issued her support for Sen. Hillary Clinton's presidential campaign.
Waters, like other members of the Congressional Black Caucus, has been caught between competing demands for her support.
Sen. Barack Obama, is, after all, a member of the CBC — the only Senator in the group. But Hillary Clinton has worked for years alongside many Caucus members.
In an interview with NPR's Farai Chideya, Waters explains why she chose to back Clinton.
Said Waters: "I have been through a lot in my political career, and I'm looking for concrete proposals ... and people who are credible in being able to implement them. I think that, for me, Hillary is a policy wonk. And I am focused on public policy. And I'm thinking about action, and thinking about what people say, how they present themselves, and whether or not they sound really credible on hardcore, concrete ideas and proposals. And she just emerges as that one for me."