Lebanese Kibbe Recipes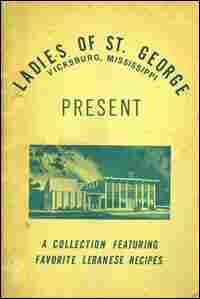 Return to Main Story
Kibbe is a dish of minced meat with bulgur and spices with many variants, eaten raw or cooked. It is regarded as the national dish of Lebanon and there are as many ways to prepare and serve kibbe as there are to spell it.
It is best known away from the Middle East as a 3- to 6-inch long torpedo-shaped bulgur shell stuffed with a filling based on spiced, minced lamb and fried till brown. Because of their shape, British soldiers in the Middle East during the World War II called them "Syrian torpedoes."
The women of St. George Eastern Orthodox Church in Vicksburg, Miss., hold an annual Lebanese dinner each year which is attended by thousands from Vicksburg and beyond. We love their 1970s cookbook, which John T. Edge dug out from his archives for us, but here are two recipes from their most recent book T' Ai Bien – Uhmm Delicious.
--The Kitchen Sisters
Kibbe Balls
Ingredients
4 cups kibbi lahem (raw kibbe or kibbe nayye)
Grind wheat and meat mixture in food chopper once or twice.
Hashwa (kibbe stuffing)
Bowl of ice water
1 teaspoon salt
Shape small amount of raw kibbe like a football about 2 inches long, or oval-shaped, by rolling between palms of hands. Hollow by pushing finger in one end of kibbe ball and pressing inside walls toward palm of hand. Place 1 teaspoonful of kibbe stuffing in open end and close gently by smoothing over. It is very important to dip hands in ice water with a little salt while working with the kibbe balls.
---
Hashwah (Kibbe Stuffing)
Ingredients
2 medium onions, finely chopped
1/2 cup rendered butter or 1/4 lb. creamery butter
1 lb. chili ground lean beef or lamb
1/3 teaspoon cinnamon
1/3 teaspoon black pepper
1/3 teaspoon allspice (optional)
1 teaspoon salt, or to taste
1/2 cup pine nuts
Sautee onions in butter on low fire until wilted. Add ground meat, spices and salt to onions and cook covered over slow fire until all moisture is gone and meat is tender. Stir occasionally. If meat is not tender enough, add 1/2 cup water and continue cooking until meat is done and moisture gone. Add pine nuts. Cool before using. This can be kept covered in a plastic container in the refrigerator for one week or more until needed, or frozen.
Variations: Add juice of one lemon along with spices and salt to ground meat and onion mixture. Or, seeds from one or more pomegranates may be added with pine nuts.
Kibbe Lahem (Raw Kibbe or Kibbe Nayye)
Ingredients
2 1/2 cups fine cracked wheat (bulgur)
2 lbs. lean finely ground lamb or beef
2 large onions, finely grated or ground
1 Tablespoon salt
1 teaspoon black pepper
1/2 teaspoon red pepper
1/4 teaspoon cinnamon
Prepare the Cracked Wheat: Rinse wheat in a bowl of water several times. Cover with 3 cups for each cup of wheat. Soak for 30 minutes. Drain well through a fine strainer. Return to bowl one handful at a time, squeezing forcefully so that all excess water is removed.
Place all ingredients in a large mixing bowl. Mix well in a kneading fashion, folding over frequently and gently squeezing through fingers. While doing this, keep hands wet and cool by dipping often into bowl of ice water. Kibbe must be moistened during mixing with hands full of ice water. Finished kibbe will have a raw meatloaf-like appearance. All kibbe recipes, raw or cooked, can be frozen.
'It Happened in the Kitchen'
Courtesy Greg Thomas and the Women of St. George Church, Vicksburg, Miss.
Rose Nader, mother of one of America's most famous Lebanese Americans, U.S. activist, consumer advocate, and frequent third-party candidate, Ralph Nader, wrote It Happened in the Kitchen. The book contained her philosophy of child-rearing, the intimate connection between good food and diverse family conversations at the kitchen table, and some 100 recipes to nourish this food and thought combination.
"When I was growing up in Lebanon and, even now, recipe books were rarely used. Recipes were passed from one person to another, using observations and predilections and personal judgments. One forgets how odd it is that people today are so dependent on cookbooks until visitors from abroad show their surprise that Americans are reading directions while they cook dinner. In the past, people grew up learning how to cook. Schools and books were not necessary." -- Rose Nader It Happened in the Kitchen
Baked Kibbe
Prepare your basic uncooked kibbe and cooked hashwah (kibbe stuffing) as shown in the previous recipes.
Additional Ingredient
1/3 lb. butter
1. Butter a 2-inch high 8- by 12-inch pan, glass or stainless steel, with a small amount of the butter, (reserve 1/4 lb. for top of dish).
2. Spread basic uncooked kibbe mixture about 1/2-inch thick, smoothing and gently pressing it down by hand, using a little water sprinkled from the hand. It should be very smooth.
3. Spread a thin layer of cooked filling. Pat the surface and gently smooth it by hand.
4. Spread a second layer of uncooked kibbe mixture about 1/3-inch thick. Once again pat the surface, using water sprinkled by hand to make it very smooth.
5. With a wet, sharp knife, gently cut the kibbe with evenly spaced diagonal lines across the longer end of the pan and then along the shorter end, to create diamond shaped pieces.
Cut with an up-and-down motion, as in cutting a cake, to avoid disturbing the smooth surface and the filling.
6. With a wet knife, gently loosen the kibbe from the edges of the pan, and then score the center of each diamond shaped piece by just inserting the knife and removing it.
This will allow butter to penetrate the center of each piece.
7. Make a hole about the size of a nickel in the center of the kibbe mixture with the middle finger.
8. Spread the 1/4 lb. butter across the top of the pan, placing some in the hole.
9. Bake in the bottom shelf of a 350-degree oven for 45-60 minutes, depending on oven. You will know it is done if the kibbe move when you wiggle the pan.
10. Remove from oven, sprinkle with cold water thrown from the hand once. Cover with a tray, cookie sheet or pan until it is served (kibbe can be eaten cold, but many prefer it warm right out of the oven).
Total Time: 1 hour, 20 minutes
From It Happened in the Kitchen by Rose Nader.