Giants Pull Off 'Closest Blowout' in History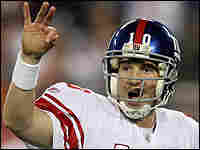 The key to the New York Giants' stunning Super Bowl victory Sunday could be found in the first quarter, says Monday morning quarterback Bill Wolff.
The Giants managed to slow the pace by running the ball — a strategy that let them chew up precious minutes on the game clock and keep the New England Patriots off the field. At the end of the first quarter, the Patriots led 7-3, but the low number of total points meant the Giants had a strategic advantage.
"The reason that was good for the Giants was that the Patriots have this amazing offense that scores lots and lots of points," Wolff says. If you're running the ball and slowly gaining yardage, "your offense is staying on the field for so much of the game time. So, it was very good for the Giants, very early. Even though the score wasn't necessarily in their favor, the time of possession was very much in their favor."
What's more, the Giants defense managed to pressure Patriots quarterback Tom Brady, sacking him five times. "Everybody has said that all year — that if you could get to Tom Brady and hit him, hurt him, make him throw under duress, then you would have your best chance," Wolff says. "Yesterday, no one has seen Tom Brady under the kind of duress he was under, from start to finish."
For whatever reason, Brady couldn't find his usual superhero level of performance. Apart from one late drive, Wolff says, Brady never seemed in sync. "The Giants outplayed the Patriots by a margin much greater than the score, 17-14," he says. "This was the closest blowout of all time."
On our blog, what's up with these Super Bowl ads?