Trudge to Voting Day Hasn't Dulled Hype
Trudge to Voting Day Hasn't Dulled Hype
Many speculated that Americans would be wearied by a two-year presidential campaign. But so far, the country remains hooked on the races — and so are TV news channels.
RENEE MONTAGNE, Host:
And I'm Renee Montagne. By the end of this morning, polling places will open from Massachusetts to California. By the end of the night, we may be closer to knowing the names of the presidential nominees. Never have so many states held primaries or caucuses on the same day.
INSKEEP: In keeping with NPR tradition, we'll bring you a little less campaign news during this voting day. We leave you extra space to think about your vote.
MONTAGNE: Of course, we will have special coverage when the polls close, and we won't be alone. TV news channels love this story, or rather this reality program. NPR's David Folkenflik reports on Survivor: The Super Tuesday Edition.
DAVID FOLKENFLIK: Cue the heraldic music.
(SOUNDBITE OF MUSIC, "THEME FROM ABC NEWS")
FOLKENFLIK: Dust off the superlatives. Television news executives like David Chalian don't mince words in describing this political season.
MONTAGNE: A once-in-a-lifetime election.
FOLKENFLIK: Chalian is the political director for ABC News, and you can practically hear the man licking his lips in all his analytic glee.
MONTAGNE: This is unprecedented. We have never seen this kind of appetite from all the shows, from the viewers. We've never seen this level of interest in the nomination season.
FOLKENFLIK: ABC News drew more than 9 million viewers for a Democratic debate a few days before the New Hampshire primary, and 7 million for the Republican debate. And that was on a Saturday when there was football.
MONTAGNE: You know, we all thought maybe that the compressed calendar in all these early states were going to produce two nominees really quickly, and we were going have this long general election. That clearly has not happened. And so there's also just a great dramatic narrative.
FOLKENFLIK: It's a wide-open race, with no president or vice president in the hunt. People are uneasy about the economy and unhappy with the war in Iraq. And CNN president Jon Klein says they're eager to see what comes next.
MONTAGNE: Well, we've had one, two - I'm counting off of this list here - four of the top five primary debates in cable news history were this year. Every time we're rolling out a debate on CNN, it's attracting record levels of viewership.
FOLKENFLIK: Klein said something dawned on him all the way back last June, when CNN got ridiculously strong ratings for a debate months before the New Hampshire primary.
MONTAGNE: Which was, boy, what is a debate? It's the candidates talking, and it's not analysts or pundits talking. And maybe there's a hunger out there among the audience to hear what the candidates actually have to say about the real issues.
FOLKENFLIK: And Klein says that's shaped the channel's coverage ever since.
MONTAGNE: The marching orders are less you, more them. That's what we say to our correspondents.
FOLKENFLIK: The other cable news channels can make their own boasts. Fox News's ratings propelled it to the fourth-highest ranked cable station in prime time for January. It's typically sixth or seventh. The less highly rated MSNBC more than doubled its January audience compared to levels four years ago. Chuck Todd is political director for NBC News, including MSNBC.
MONTAGNE: These politics nights have been good ratings for everybody, and that says something.
FOLKENFLIK: Todd says he hopes to push so many stories on NBC Nightly News anchor Brian Williams that one day the half-hour newscast will be exclusively politics.
MONTAGNE: We're going to cover a great news story, and I think that this an incredibly important news story. It's fascinating at the same time. It's like if the Super Bowl really mattered to people's lives, that's what this presidential election is.
FOLKENFLIK: David Folkenflik, NPR News.
MONTAGNE: And you can hear our special coverage of Super Tuesday tonight on many NPR stations and at npr.org, where we'll also be blogging and providing real-time results.
NPR transcripts are created on a rush deadline by Verb8tm, Inc., an NPR contractor, and produced using a proprietary transcription process developed with NPR. This text may not be in its final form and may be updated or revised in the future. Accuracy and availability may vary. The authoritative record of NPR's programming is the audio record.
Candidates Make Last Appeals to Voters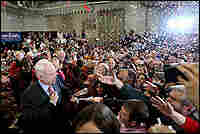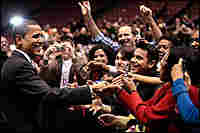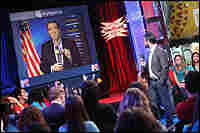 Voters in 24 states were set to shake up the presidential primary map in both parties on "Super Tuesday," with Democrats Barack Obama and Hillary Clinton in a close fight and Republican John McCain hoping for a decisive victory over rival Mitt Romney.
More than half of the total Democratic delegates and about 40 percent of the GOP delegates are up for grabs.
Most opinion polls showed a tight Democratic race in many states. Among Republicans, Sen. McCain had solid leads in most of the big battleground states.
Competition is particularly fierce in delegate-rich states such as California, Illinois and New York. Eight of the 21 Republican contests are winner-takes-all affairs — in New York, New Jersey, Connecticut, Delaware, Missouri, Arizona, Utah and Montana.
McCain Turns to the Party's Base
On the Republican side, 71-year-old Sen. John McCain (R-AZ) has benefited from a changing political climate. The decline of violence in Iraq has persuaded some voters that McCain was right to support the troop surge, while others just see it as a less-pressing issue.
But McCain still has to win over conservative Republicans, who are alarmed by the same nonconformist streak that delights independents. McCain insists he can keep all the factions of the party together in the same big tent.
"We may have a disagreement on an issue or two. That's healthy. Wouldn't we be pretty boring if we agreed on everything?" he told Illinois Republicans at a recent dinner.
McCain has concentrated his campaigning in the Northeast, making stops in New Jersey, New York and Massachusetts.
Clinton Re-Emphasizing Softer Side
New York Sen. Hillary Clinton's recent campaign strategy has been to show voters more of her personality and try to reintroduce herself to the American public as a gentler figure — not necessarily someone who you would want to have beers with, but certainly someone who voters trust.
At a Super Bowl party in Minneapolis on Sunday, she talked about her efforts to define herself over the last month.
"I've been passionate about children's issues and women's issues and issues of justice, legal and economic, my entire life. And I think as the campaign went on, it became clear that I needed to demonstrate who I am as a total package. You know what I believe in, what I care about, why I do what I do, and I worked on that all year," she said.
After the Superbowl party in Minnesota, she returned to the Northeast for campaign stops in New Haven, Conn. at her alma mater, Yale, and in New York. Her husband and former President, Bill Clinton, campaigned on her behalf throughout California in Orange County, Sacramento, Stockton and San Francisco.
Romney Portrays Himself as Best Conservative Option
GOP rival and former Massachusetts Gov. Mitt Romney is hoping to win the votes of conservative Southerners who may have supported former Tennessee Sen. Fred Thompson or former New York Mayor Rudolph Giuliani before they dropped out.
At a Nashville diner on Monday, he talked about his stance on immigration.
"Do you want a nominee who helped write McCain-Kennedy that gave amnesty to illegal aliens? No! Do you want a nominee instead who represents conservative principals and keep us inside the house that Ronald Reagan built?" he said.
But Nashville just one of many stops he made leading up to Super Tuesday, jetting between Tennessee, Georgia, Oklahoma, California and West Virginia.
Obama Looks Ahead to the November Election
On the Democratic side, Illinois Sen. Barack Obama campaigned in Connecticut. Recently, he has adopted a two-pronged strategy: first, to highlight the policy differences between him and rival Sen. Clinton on issues such as Iraq. Secondly, Obama talks about which candidate would do better against Republican front-runner McCain.
"I can offer a clear and clean break from the failed policies of George W. Bush. I won't have to explain my votes in the past," Obama said at a rally in Delaware — referring to Clinton's original support of the Iraq war.
Huckabee Stumps Throughout the South
One-quarter of the delegates at stake on Super Tuesday are in the South. Former Arkansas Gov. Mike Huckabee has been wooing the region's large number of evangelical voters, who helped him win the Iowa caucuses — his first and only win during the early voting contests.
But Huckabee has become more realistic as McCain and Romney's primary wins have mounted. After pumping up the crowd at the Chattanooga Convention Center, Huckabee told reporters that there are not a set number of delegates that he needs to win on Tuesday. The important part to focus on, he said, is that he is still in the game.
From NPR staff reports