Trombones, Transcendentalism, and a Teen Trio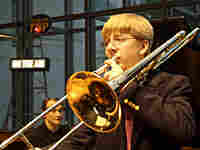 From the Top heads to the Cleveland Institute of Music to find a trio of teen siblings with a thing for strings, transcendental music by Liszt, a trombonist with "Thoughts of Love," a teenage percussionist, and the healing sounds of a violinist with compassion.
Percussionist Joshua Jones says he first connected to music after watching the movie The Lion King.
"I remember I started crying, thinking of it," he recalls. "It was an important moment for me because it got me connected to the emotion music has. After that, I just wanted to play music all time."
These days, Jones is the assistant drummer at his church and also a member of the Percussion Scholarship Group of the Chicago Symphony Orchestra. He plays Rhythm Song by Paul Smadbeck.
Violinist Alena Merimee has literally grown up at the Cleveland Institute of Music. "My mom and dad were both undergrads at CIM and got married during their sophomore year," she says. "They had me during their senior year, so for the first year of my life I was carted around to classes in a baby backpack."
Today, Merimee studies violin at the Cleveland Institute's preparatory division. She also enjoys volunteering her time playing for patients in her local hospital's burn unit.
"The patients there go through an immense amount of physical healing, but the emotional healing is just as important, and music seems to really help with that," she says. Merimee plays the opening movement from Beethoven's "Spring" Sonata for Violin and Piano.
Joseph Hudson was inspired to take up trombone after his older brother, who plays trumpet, introduced him to a CD featuring the Empire Brass Quintet.
"I really liked the trombone sound so I decided that was the instrument I wanted to play," he recalls.
While at Interlochen Music Camp in Michigan, Hudson played with a brass quintet and found the experience so rewarding that he decided to form his own quintet back home.
Hudson plays Thoughts of Love by Arthur Pryor.
"Swimming, especially, is good for my piano playing," says 11-year-old Daniel Song. "It helps my back and arms become stronger so I can create more sound on the piano."
At the moment Song — a recipient of the Jack Kent Cooke Young Artist Award — needs that extra strength to play Franz Liszt's Transcendental Etude No. 7, which is currently his very favorite piece. But that could all change as he gets older.
"I'll have the opportunity to play lots of pieces, so maybe I'll choose my favorite after I retire," he says. Song plays, naturally, Liszt's Transcendental Etude No. 7.
The Playing Hoopes Trio consists of three talented siblings: 17-year-old violist Anna Hoopes, 15-year-old violinist Alexandra Hoopes, and 13-year-old violinist Chad Hoopes. They are students at Cleveland Institute of Music's preparatory division.
Before leaving Minnesota to join the Institute, the trio was invited to play at the Governor's mansion for Jesse Ventura.
The siblings also had a great deal of fun meeting the governor's wife. "She brought us into a closet and showed us how, when you bite down on a mint in the dark, sparks fly out of your mouth," says Alex, "We must have stayed in there for 45 minutes chomping on mints!"
The trio pays a movement from the Serenade for Two Violins & Viola, Op.12, by Zoltán Kodály
This program originally aired on February 6, 2008.