On Screen and Off, Producer Scott Rudin Adapts
On Screen and Off, Producer Scott Rudin Adapts
Kevin Winter/Getty Images
More from the Interview
Scott Rudin remembers rescuing the 'Clueless' script from the slush pile.
Rudin's recipe for success? Work with talented actors, directors, and writers — when they're coming off a bomb.
'There Will Be Blood'
Director: Paul Thomas Anderson
Genre: Drama
Running Time: 158 min
Watch Clips
'There Will Be Blood' Trailer
To music that sounds like a hive of angry bees, Daniel Day-Lewis falls down an oil well he's digging and breaks his foot — his left foot — in the opening moments of Paul Thomas Anderson's oil epic. Based on Upton Sinclair's 1927 novel Oil, about a clash of capitalism and religion at the turn of the last century, this sometimes magnificent, decidedly strange film is a portrait of a terrible, rapacious man.
The American Dream, or perhaps simple greed, has turned him into a sociopath, though there are moments when he seems briefly empathetic — adopting the infant son of a fellow well-digger who's killed in an accident, or opening up his life to a stranger who shows up claiming to be a brother he never knew he had.
These flashes of humanity don't turn out well, however, and the character's as hard to like as he is hardbitten. A young preacher played obsessively by Paul (Little Miss Sunshine) Dano is no easier to warm up to. And few other performers make much impression. But the imagery — an oil boom town is built before your eyes, then nearly burns down in a Western landscape that seems a character in its own right — is undeniably powerful.
Anderson, an indie director with a streak of intriguing art-film hits to his credit (Magnolia, Boogie Nights, Punch-Drunk Love) proves to have a real eye for epic filmmaking, though with a screenplay that sometimes goes for half an hour without a word being spoken, an extreme, violent ending, and a running time that stretches to 158 minutes, that film ends up seeming a blunter instrument than it might.
'No Country for Old Men'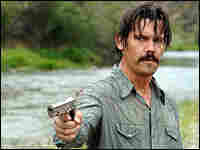 Richard Foreman/Miramax Films
Directors: Ethan Coen
Joel Coen
Genre: Crime Drama/Thriller
Running Time: 122 minutes
Related NPR Stories
Cormac McCarthy's 2005 novel about American violence — a drug deal gone bad, a traffic stop gone wrong, carnage so far gone it's off the charts — has been turned into the sharpest Coen Bros. film in years.
It's basically a genre exercise, one harrowingly extended chase sequence in which psychopath Javier Bardem trails hunter Josh Brolin, who's found $2 million in the Texas desert near a pile of bodies. Leavened with humor — Tommy Lee Jones cracks wise from the sidelines as a laconic sheriff as things turn ever grimmer — the unpredictable narrative has shocks 'round every plot twist, many of them provided by a reliably eerie Bardem with his slaughterhouse air-gun and Buster Brown haircut.
Still, for a film that traffics in implacable malice, this movie remains remarkably grounded in the everyday. Writer-directors Joel and Ethan Coen use silences (a hotel-hallway sequence will have audiences afraid to breathe) as well as the promise of excruciating violence to ratchet up the tension.
But they also know the value of understatement, at one point dramatizing mayhem with a breathtaking economy simply by having a character check his boots as he steps through a doorway. By that point in this sanguinary film, blood has pooled so often that you know exactly what he's checking for. (Recommended)