Staring into Night: Satellite Spotters Watch Back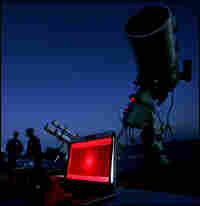 With so many satellites gathering intelligence in the sky, it's easy these days to feel like you're being watched. One small group of folks is watching back. They're satellite spotters, people who identify and monitor all kinds of satellites — even secret spy satellites — and post information about them on the Internet.
These extreme hobbyists are often the only source of information about spy satellites for people without top secret clearance. And their work comes in especially handy when a broken satellite comes plummeting back to earth, as one is expected to do sometime next month.
Ted Molczan of Toronto is an energy conservation consultant by day and one of the world's top satellite spotters by night. He's been at it for more than 20 years, and the New York Times recently wrote about his identification of the satellite now falling to Earth.
Molczan says he loves using math and physics to unravel these mysteries, and insists that the information he puts on the Internet would not be much use to America's enemies. He first became fascinated with space as a child growing up in the 1960s, and when he saw his first satellite at age 10 or 11, he says, "that made the whole thing that much more tangible to me, actually seeing with my own eyes something that had been made by humans and blasted into space."
On our blog, see video taken by satellite spotter Kevin Fetter.