Rehab Isn't What It Used to Be
Rehab Isn't What It Used to Be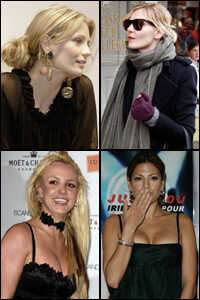 One of the songs nominated for Best Record of the Year is "Rehab" by Amy Winehouse. The 24-year-old soul singer won't be at the Grammys this weekend because she's in rehab, for real.
Two weeks ago, Winehouse checked herself into a London facility shortly after video of her smoking what looked to be a crack pipe surfaced on celebrity news shows like TMZ. And, back in December, photographers caught her with what looked like white powder on her nose.
In recent months, tales of stars with drug and alcohol problems have become all too familiar. Just this week, fresh-faced Kirsten Dunst, 25, surprised many fans when she checked into rehab. A few days earlier, actress Eva Mendes visited Cirque Lodge, the rehabilitation center of choice for another young actress — Lindsay Lohan.
Around the same time, the New York medical examiner offered a sobering announcement: Actor Heath Ledger's death was caused by an accidental overdose — the result of taking a combination of six different medications, including painkillers and sedatives.
Now a new reality TV show on VH1 spotlights stars' struggles with drug and alcohol addiction. Celebrity Rehab with Dr. Drew Pinsky is oriented around the motto, "Celebrities love to party, but many of them don't know when to stop."
Especially now, when paparazzi trail stars' every moves, it's easy to see why celebs struggle with dependencies, says Gary Stromberg, author of The Harder They Fall.
He says many celebrities turn to drugs and alcohol as a way to fill emotional voids — voids that run deep in a world where someone can be all the rage one week and completely forgotten the next.
"To be a star takes a great deal of courage, and not all of us are possessed with that kind of courage," Stromberg says.
Though that's nothing new, he says, the way stars deal with addiction has changed.
"It's only in the last 20 years that rehab has existed at all. ... Bela Lugosi — this goes back to the '30s and the '40s — he went to the Norwalk hospital for the criminally insane. That's how alcoholism was treated back in those days," he says.
Celebrities today are much more likely to wind up someplace like Passages in Malibu. The $22 million estate charges $67,550 for a monthlong stay.
"We've treated a lot of celebrities, and their treatment is the same as non-celebrities' treatment," says Chris Prentiss, the center's founder.
That treatment includes intense group and individual therapy, hypnotherapy, massage, acupuncture and yoga amid beautiful grounds with calming elements such as a koi pond.
Prentiss says he's happy to help any celebrity overcome addiction, but he does have reservations about the message that plush rehab centers send — especially to teenagers.
"When celebrities go out and use, because so many of them are going to rehab now, the teenagers think that it's OK to go out and use," Prentiss says.
Susan Foster of Columbia University's National Center on Addiction and Substance Abuse agrees.
"We live in this culture where alcohol and drug use is glamorized," she says. "A related issue is how good the rehab is. Sometimes you are almost led to believe that celebrities go into rehab as a way to avoid other kinds of sanctions."
Foster says when celebs go to rehab just to get out of bad publicity, treatment is unlikely to work. They're likely to wind up back in rehab — and that sends the wrong message to the public, too.
"If you have this continual focus on the fact that people aren't getting well, that sort of adds to the sense of despair or worry that 'Maybe I can't succeed,' " she says.
Foster sees one positive aspect to the recent media attention on celebrities and addiction. She says it provides parents an excellent opportunity to talk to their kids about alcohol and drug use.
According to her research, more open dialogue at home is still the best preventive measure around.