Kumquats: Discovering the Sweetness of Sour
About the Author
One of the best things about going to the local farmers' market is the free samples. It might be succulent strawberries one week, sugary Medjool dates another, and sometimes, it's something memorable, something that packs a wallop, something like kumquats.
I first saw kumquats two years ago at the Santa Monica Farmers' Market; their season begins in January and extends through April. I was immediately attracted to their diminutive size and impossibly cheerful orange color.
"Those are adorable," I said to the farmer. "What are they?"
"Kumquats," he answered.
"What do they taste like?" I asked.
"Here, try for yourself," he said, handing me one.
Unsure how to peel it, I asked, "Do you eat the whole thing?"
"The whole thing," he said.
I bit into the kumquat, and it initially tasted like an orange rind, only sweeter and more delicate. Then my teeth sunk into the juicy flesh and — POW! — a jolt of tartness hit my taste buds. Involuntarily, my cheeks sucked in, my lips puckered, and my eyes watered. (I had a visceral reaction just writing that sentence.)
The farmer looked at me, hesitatingly. I smiled at him and said, "I'll take a basket, please." When you have a sensory experience that explosive, you want to have it again.
Kumquats are either members of the citrus family, or they're not. While kumquats resemble miniature oranges, they are often classified in their own genus, Fortunella. However, many botanists classify kumquats as citrus fruits.
Kumquats are native to China, and their name comes from the Cantonese kam kwat, which means "golden orange." They are a symbol of prosperity and a traditional gift at Lunar New Year, which is why they are a common sight in Chinese households and shops this time of year.
The fruit has been cultivated for centuries in Japan, and in 1846 was introduced to Europe (and subsequently to North America) by horticulturalist Robert Fortune, for whom the species Fortunella was named.
Whether they're in the Fortunella or citrus family, botanists seem to agree that only five or six varieties of kumquats grow throughout the world today. Two types are commonly found in the United States. Though similar in appearance, a Marumi kumquat is round and slightly mild in flavor, while a Nagami kumquat is oval and characteristically sour.
If you're lucky, you might find Meiwa kumquats — larger, spherical fruits that are markedly sweeter and juicier than Nagami kumquats — which are less commonly available in the U.S.
Most supermarkets in the U.S. carry Nagami kumquats from California, Florida and Texas. A Nagami kumquat — an oblong fruit about the size of an olive — has a smooth, shiny rind that ranges from yellow-orange to deep orange. This mildly sweet, edible rind contrasts pleasingly with the kumquat's sour flesh.
All kumquats have tiny seeds that can be removed when sliced — or discreetly spit out if the entire fruit is eaten. The rich glossy green leaves of the kumquat tree are not edible, but are nice for decoration.
When selecting kumquats, look for plump, firm, brightly colored fruit without blemishes or shriveled skin. They can be stored on the countertop for a couple of days; otherwise, place them in an air-tight container in the refrigerator for up to two weeks.
Kumquats can be eaten cold, at room temperature or cooked. Given their innate tartness, they are often "candied" — cooked in a syrup of sugar and water — then used as a topping on desserts such as pound cakes and cheesecakes. They make wonderful marmalades and jams, especially when combined with fruits such as blood oranges, cranberries or pineapple.
Like oranges, kumquats are delicious in savory dishes. Since cooking them mellows their acidity, they make great chutneys and relishes that complement seafood, pork and duck. Simply sliced raw, kumquats add zing to salads of bitter greens such as endive or frisee.
In addition to supermarkets and farmers markets, kumquats can be ordered online from reputable sites such as kumquatgrowers.com (in Florida) and Melissas.com.
Like everything in life, it's all about expectations. If you eat a kumquat expecting demure sweetness, you'll feel sucker-punched by its intense tartness. Of course if you're like me, you'll go back for more.
Watercress and Endive Salad with Kumquats
Bold, peppery watercress and endive contrast flavorfully with tart kumquats and sweet, tangy blood oranges. If you don't have blood oranges, then navel oranges can be substituted for both the fruit sections and the juice. Of course, orange juice from a carton is also fine. Any way you make it, this juicy, refreshing salad will surely brighten a gray winter day.
Makes 4 servings
Dressing
1 shallot, thinly sliced
2 tablespoons olive oil, divided
1 tablespoon unseasoned rice vinegar
3 tablespoons freshly squeezed blood orange juice
1 teaspoon honey
1/4 teaspoon blood orange zest
Salt and freshly ground black pepper, to taste
Salad
3 Belgian endive, sliced crosswise into rounds (about 2 cups)
1 bunch watercress, stems removed (about 2 cups)
2 blood oranges, peeled and sectioned
8 kumquats, thinly sliced and de-seeded
1/4 cup toasted pecan halves
In a small skillet over medium heat, saute shallots in 1 tablespoon olive oil until soft, about 3 to 5 minutes.
While shallots are cooking, whisk together in a small bowl the rice vinegar, orange juice, honey and zest. Add shallots with oil in which they were cooked. Gradually whisk in the remaining 1 tablespoon of olive oil. Season with salt and freshly ground black pepper.
Divide the endive and watercress among 4 plates. Top each with 1/4 of the oranges, kumquats and pecans. Drizzle each salad with dressing and serve.
Note: To de-seed kumquats, slice the fruit into rounds with a sharp paring knife. Using the tip of the knife, gently pluck the tiny seeds from the slices.
Kumquat and Dried Cherry Chutney
This vividly colored chutney is sweet, tart and tangy. Spread it on crostini or crackers for an appetizer, or pair it with pork or duck.
Makes 2 cups
1/2 teaspoon mustard seeds
1/2 teaspoon aniseed
1 1/2 cups of sliced, de-seeded kumquats (about 7 to 8 ounces)
1 cup sugar plus 2 tablespoons
1 1/4 cups freshly squeezed navel orange juice (prepared juice may be substituted)
1/2 cup dried cherries
1 tablespoon plus 1 teaspoon minced fresh ginger
1/2 teaspoon freshly ground black pepper
1/4 teaspoon ground cinnamon
In a small, dry skillet over medium heat, toast mustard seeds and aniseed. Gently shake the pan in a back-and-forth motion until seeds are aromatic and lightly toasted, about 1 to 2 minutes. Transfer to a heavy, small saucepan with remaining ingredients. Bring to a boil, stirring often. Reduce heat to medium-low and simmer until the chutney thickens and the kumquats become translucent, about 10 to 15 minutes.
Transfer chutney to a bowl and let cool before serving. Chutney can be stored in an air-tight container in the refrigerator for up to two weeks. Bring to room temperature or reheat on the stovetop before serving.
Note: To de-seed kumquats, slice the fruit into rounds with a sharp paring knife. Using the tip of the knife, gently pluck the tiny seeds from the slices.
Tilapia with Kumquat Citrus Butter
This zesty citrus butter enlivens white fish such as tilapia and halibut or shellfish such as scallops.
Makes 4 servings
Kumquat Citrus Butter
1 1/2 tablespoons softened butter
4 de-seeded kumquats with rinds, minced until pulpy
1 teaspoon orange zest
1 teaspoon lemon zest
1 teaspoon minced fresh ginger
Salt and freshly ground black pepper, to taste
4 or 5 fresh mint leaves, minced, plus a couple more for garnish
Fish
4 (4-ounce) tilapia fillets
2 teaspoons butter
2 teaspoons olive oil
Combine all ingredients for the citrus butter in a small bowl and mix with your fingertips, ensuring that the fruit and seasonings are incorporated into the butter. Set aside.
For the fish, melt butter with olive oil in a large skillet over medium-high heat. Rub fish fillets on both sides with half of the citrus butter and place in the hot skillet. Cook fillets for 4 minutes, then flip once and cook an additional 2 to 3 minutes, or until opaque and slightly browned.
Melt remaining half of the citrus butter in the microwave or on the stovetop and drizzle on top of the cooked fish before serving. Garnish with additional mint, if desired.
Note: To de-seed kumquats, slice the fruit into rounds with a sharp paring knife. Using the tip of the knife, gently pluck the tiny seeds from the slices.
Coconut Kumquat Tea Cake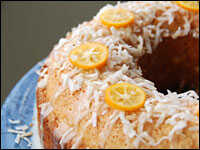 This cake is adapted from Dorie Greenspan's Coconut Tea Cake in Baking: From My Home to Yours (Houghton Mifflin 2006). Minced kumquats, orange zest and lemon zest add explosive flavor and color to this moist, aromatic cake. A simple citrus icing drizzled over the top with toasted coconut and sliced kumquats makes it an easy yet elegant wintertime treat.
Makes 12 to 14 servings
Cake
1 cup shredded, sweetened coconut, toasted
2 cups all-purpose flour
1 teaspoon baking powder
Pinch of salt
1 cup canned unsweetened coconut milk, stirred well
1/2 stick (4 tablespoons) unsalted butter, cut into 4 pieces
4 large eggs, preferably at room temperature
2 1/4 cups sugar
1/2 cup de-seeded kumquats, with the rind, minced until pulpy
1 tablespoon orange juice
1 tablespoon lemon juice
1 tablespoon orange zest (about one orange)
1 tablespoon lemon zest (about one lemon)
1 teaspoon pure vanilla extract
Icing and garnish
1 cup confectioners' sugar
1 teaspoon fresh orange juice
1 teaspoon fresh lemon juice
A few drops of milk
1/4 cup shredded, sweetened coconut, toasted
2 or 3 kumquats, thinly sliced and de-seeded
Place rack in center of oven and preheat to 350 degrees. Butter or coat with cooking spray a 9- to 10-inch Bundt pan.
To toast the coconut, place in a dry skillet over medium heat, and gently stir until aromatic and golden brown, about 2 minutes. Remove from heat and set aside. Keep your eye on it since it burns quickly.
In a large bowl, sift the flour, baking powder and salt together.
Pour the coconut milk into a small saucepan, add the butter, and heat until the milk is hot and the butter is melted. Remove from the heat but keep warm.
Working with a hand mixer, or stand mixer fitted with the whisk attachment, in a large bowl beat the eggs, sugar, minced kumquats, orange juice, lemon juice, orange zest and lemon zest at medium-high speed until thick and almost doubled in volume, about 3 minutes. Beat in the vanilla. Reduce the mixer to low and add the dry ingredients, scraping down the sides of the bowl as needed.
Keeping the mixer on low, add 1 cup of toasted coconut, mixing until just blended, then slowly add the warm milk and butter. When the mixture is smooth, stop mixing and stir a couple of times with a rubber spatula to be sure it's thoroughly mixed. Pour the batter into the pan and gently shake it to even it out.
Bake for 50 to 55 minutes, or until the cake is golden brown and a cake tester inserted deep into the center comes out clean. Transfer the cake to a rack and cool for 10 minutes before unmolding onto the rack to cool at room temperature.
Meanwhile, make the icing in a small bowl by whisking together confectioners' sugar with orange and lemon juices. Add a few drops of milk and continue whisking until the icing is smooth and thin yet clings to the back of a spoon. When it's ready, pour it through a fine-mesh sieve to remove any tiny clumps of confectioners' sugar.
Unmold the cake, and place on a rack. Using a spoon, drizzle the icing in a back-and-forth pattern on the slightly warm cake. Sprinkle with 1/4 cup of toasted coconut, and garnish with sliced kumquats. Allow to set for at least 15 minutes before slicing.
Note: To de-seed kumquats, slice the fruit into rounds with a sharp paring knife. Using the tip of the knife, gently pluck the tiny seeds from the slices.