As McCain Clinches, Conservatives Recalibrate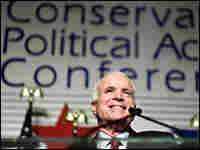 Scott J. Ferrell/Congressional Quarterly/Getty Images
Now that Mitt Romney has bowed out, and John McCain has cemented his position as the presumptive Republican nominee in the November presidential election, the GOP's conservative base is reconsidering its options.
New York Times correspondent David Kirkpatrick has been following the campaign of Mike Huckabee, whose ongoing presence in the race represents one last hope for the die-hard conservative faithful. Kirkpatrick joins Terry Gross to discuss reaction on the right.
Kirkpatrick says he "was frankly surprised by the negativity of the reception" when McCain spoke to the faithful at last week's CPAC — the Conservative Political Action Conference, where the front runner was greeted more than once by boos.
Kirkpatrick says the friction is in some ways easy to understand — and that in the course of his reporting, one frustration keeps getting expressed by conservatives.
"People say, 'As soon as I get ready to start liking Sen. McCain, he sticks his finger in our eye,'" Kirkpatrick says. "It's not any particular policy position he's taken. It's that time and time again, he kind of bucks the movement, and he maybe even seems like he enjoys it a little bit."