Forget Jewelry: Give Your Love Music
Every year, Valentine's Day brings the same old sappy cards, chocolates, and heart-shaped jewelry — stuff that's nowhere near as special as retailers would have you believe. Instead, why not impress your sweetheart with some music inspired by love?
The last selection in this set — one of loss, love, and finally relief — remains one of the most haunting, depressing love songs ever recorded. If you've recently lost love, keep that one off your playlist.
Forget Jewelry: Give Your Love Music
Chet Baker
Song: My Funny Valentine
from The Definitive Chet Baker
Somehow, loving lyrics such as "Your looks are laughable, unphotographable" and "Is your figure less than Greek?" made for an extremely popular romantic ballad recorded by many jazz greats. Chet Baker's cool vocal adds to one of the definitive versions of the song.
Duke Ellington & John Coltrane
Song: In a Sentimental Mood
by Duke Ellington w/ John Coltrane
There are no lyrics present here. The language of Coltrane's sax and Ellington's piano express love with such depth that no words are needed. Try Ella Fitzgerald's vocal version to hear the beautiful lyrics.
(I Love You) For Sentimental Reasons (excerpt)
Nat King Cole
Song: (I Love You) For Sentimental Reasons (excerpt)
from Jumpin' at Capitol
If you haven't yet worked up the nerve to say those three little words to your love interest, let Nat King Cole say it for you in ballad form. His voice is warm and his message is convincing.
I'm Crazy 'Bout My Baby (And My Baby's Crazy 'Bout Me)
Fats Waller
Song: I'm Crazy 'Bout My Baby (And My Baby's Crazy 'Bout Me)
from Greatest Hits [RCA]
This one is for those who feel the need to jump up and down (maybe even on a couch) to express the excitement of being in love. Waller sings with a touch of humor and plays with a bounce that will have you and your beloved walking on air.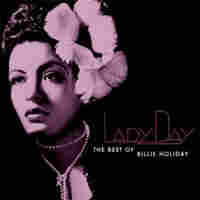 Billie Holiday
Song: Gloomy Sunday
from Lady Day: The Best of Billie Holiday
By the third stanza, you'll be rewarded with some relief and hope in this song's otherwise melancholy lyrics. Until then, it's easy to understand why this was sometimes referred to as "The Hungarian Suicide Song" at the time of its release. The music was composed by Hungarian pianist Rezso Seress with lyrics by poet Laszlo Javor. This English interpretation is by Sam Lewis.