On Sale: Really Expensive Paintings of Dogs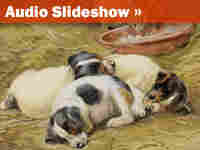 While real canines descended on New York City earlier this week for the Westminster Kennel Club show, some other puppies sat up and begged for attention — on canvas.
The Manhattan fine art auction house Bonhams held its 26th annual sale of dog-themed art this week. The timing of the sale, on the same day as the most prestigious dog show in the country, is no accident. People who spend time and money to breed the perfect pooch are also likely to want some two dimensional tail-waggers adorning their walls.
Charles O'Brien, director of 19th century paintings for Bonhams, says the sometimes whimsical pieces on sale are serious works of art.. "Most of the artists that we represent in sale are professional fine artists in their own right, but they just happen to specialize in dog paintings," he says.