'Blind Boys' Inspire Fans Worldwide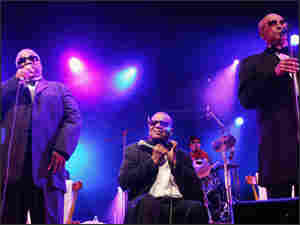 More than 60 years after they first came together, The Blind Boys of Alabama's members continue to inspire generations of music lovers with a message of hope, inspiration, and perseverance. The group got its start performing in the black churches, schools, and auditoriums of the segregated south, but now enjoys a huge mainstream following.
"We knew our place," says Jimmy Carter, a founding member of the group.
The group traces its gospel roots to a school for the blind in Talladega, Ala., where its members sang in a choir. In 1944, they branched out on their own as the Happy Land Jubilee Singers. After winning a singing contest, they later changed their name to The Blind Boys of Alabama.
Since a somewhat humble start, the group has earned four Grammy awards.
Although is known worldwide for its gospel classics, it's also reaching out to new generations of music lovers.
"Contemporary [music] is the music of today," says Ricky McKinney, who's been with the group for 20 years.
But Carter suggests that the group will always be most attached to its spiritual roots, noting that it once turned down an opportunity to sing secular music.
"We were designated to sing gospel songs," he says.
The men recently took their act to New Orleans for their newest album, Down in New Orleans, with a special message for people of the region who still struggle in the aftermath of Hurricane Katrina.
"We don't know how to use a hammer and a nail, but we can bring hope to you through our music," Carter says.
Written and produced for the Web by Lee Hill.
VIDEO: The Blind Boys of Alabama's 'Free At Last'