Wisconsin Voters Will Ignore Party Lines for Primary
Wisconsin Voters Will Ignore Party Lines for Primary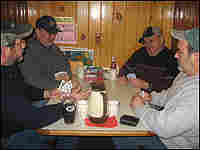 With so few candidates left in the presidential race, the Wisconsin primary feels more like an actual election.
In the town of Bloomer, many voters are not sure which candidate they'll support — or even in which party's primary they will vote.
The Feb. 19 Wisconsin primary is open, meaning voters can participate in either party's race and can register the day of the contest.
The gathering spot, the Main Street Cafe, is full of political debate — voters arguing over New York Sen. Hillary Clinton's experience versus Illinois Sen. Barrack Obama's "fresh" ideas. A few Republican voters say they dislike the direction the country and party has gone.
Jeff Harings, who owns a solar and wind energy business, says he plans to vote for Clinton.
"Only because Bill did a pretty good job," Haring says as he plays cards in the cafe. "The whole world respected us — wasn't afraid of us. Now the rest of the world doesn't care about us."
Another cafe visitor, Brother Kevin, owns an excavation company. Until now, he has always voted Republican.
"I don't think I'll go for Hillary, but as it progresses, I may change my mind. The Republicans have pretty much messed this world up," he says.