Sliced, Diced 'Dexter' Moves from Cable to CBS
The Showtime series Dexter, which tells the story of a criminologist who moonlights as a serial killer, will air (edited for content) on CBS. Fresh Air's TV critic David Bianculli talks about Dexter's move from cable to network.
'Dexter': Criminologist by Day, Killer by Night
Listen to this 'Talk of the Nation' topic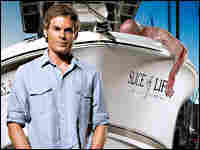 Related NPR Stories
On Showtime's Dexter, Michael C. Hall plays a Miami forensics detective who spends his days examining blood splatter, and his nights out on killing sprees.
It's not as cold-hearted as it sounds though — Hall's character strictly adheres to the "rules" he learned from his foster father; he only kills people who "deserved to die."
Hall discusses the challenges of playing the ultimate good/bad guy — the role of the likable serial killer.