An Optimistic View of the World
An Optimistic View of the World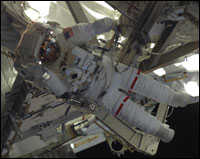 Questions or Comments?
Like many people, I have a job that requires me to take a business trip every now and then. I'm on one right now. As I write this, I'm flying over New Zealand; it looks so beautiful out the window. Unlike most people, however, I'm traveling over 200 miles above the Earth, and I'm going 17,500 miles an hour.
When I look down, I am stunned by the intense colors of the Earth, the intricate patterns and textures, and sheer beauty of our home planet. When I watch the Earth roll by, I realize I believe in optimism.
It would be hard to believe that there is no hope for Earth from up here. The International Space Station is a collaboration of 16 nations — and one of our primary partners was our sworn enemy only a few decades ago. The space station itself is the embodiment of where we can go as a global society.
My own optimism is rooted in two very different ideas: statistical probability and trust.
First, I accept the statistical probability that I am not likely to be killed by a terrorist or contract some horrible disease. It's not that I think that everything will work out OK; it's that I think that everything will probably work out OK.
And second, trust. I learned trust from my mother, and in a way, this essay is for her. Two months ago, while I was up here, she died in an accident and of course I have been unable to return to honor her. I have been thinking about her life, which was not an easy one. She was born into poverty, forcibly relocated during World War II, survived the premature deaths of her husband and a son — and yet, her outlook was so life-affirming. She felt that people were good and well-meaning. Sometimes I felt that she trusted too easily, and I was afraid that that stranger she talked to on the street or the airplane might not be as nice as she thought. But I was almost always proven wrong, and I'm so grateful for her example.
I came to believe, like she did, that most people want to live their lives without conflict. They care about the other people in their house, their neighborhood, their country and their planet.
I am an astronaut, and I cannot imagine doing what I'm doing, seeing what I'm seeing, and not being an optimist. We climb aboard extremely complex machines which hurl us into space, and we have to trust that every engineer, every technician and every manager has done their job, and that we have a high statistical probability of success.
And once we are here, we get to look back and see the Earth as a thing of stunning beauty. Of course, I know there are awful things going on down there, that people are in pain, wars are raging, poverty and hunger are taking far too many lives — but from here, I can only see the whole.
I wish that everyone could see the world from my perspective; I believe that more people would be optimistic about our future.
Independently produced for Weekend Edition Sunday by Jay Allison and Dan Gediman with John Gregory and Viki Merrick.
More This I Believe Essays