Era Coming to an End in Cuba
Era Coming to an End in Cuba
Adalberto Roque/AFP/Getty Images
Fidel Castro is quitting as president of Cuba, but in his announcement he writes, "This is not my farewell to you."
Castro seized power in an armed revolution 49 years ago. Now, he is 81 years old. He has been out of the public view for a year and a half because of illness, and he said in a letter that he released over night that he is stepping down.
By 7 a.m. Tuesday, few Cubans had heard the news, which was published in the online version of the Communist Party newspaper Granma. The news is expected to spread quickly as people head to work.
After 18 months of being sidelined due to illness, Cubans have been getting used to the idea that the man who has ruled the country for almost 50 years was about to retire and an era would come to an end.
This was the logical time for Castro to step down. Last month, there were elections for a new National Assembly, and the new assembly meets for the first time on Sunday. Its first order of business is to elect a Council of State and a president. The president of the Council of State is the president of Cuba for the next five years.
President or not, Castro will still be a powerful force in Cuba as long as he lives. Raul Castro has had power since his brother's illness, and during that time he has been talking about economic reforms. Raul Castro has raised expectations in Cuba that he is going to put more money in people's pockets and more food on the table.
He has said publicly that he would like to engage in talks with the U.S., but he has said he will not do that with the Bush administration. He wants to see who is elected president in November.
The BBC's Cuba correspondent, Michael Voss, talks about Castro's announcement.
Castro Resigns Presidency of Cuba, After 49 Years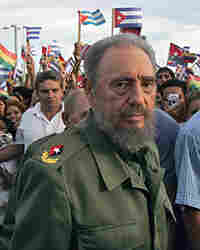 Castro and Cuba
Cuban leader Fidel Castro says he will not seek re-election and has resigned as Cuba's president, after 49 years in power.
Castro announced in Cuba's state-run newspaper that he is stepping down. At 81, he has been ailing and has not appeared in public in the past year and a half.
When the Cuban parliament meets Sunday, Castro said, he will neither seek nor accept a new term as president.
Despite its historical importance, Castro's announcement did not come as a complete surprise. When Cuba's parliament convenes this weekend, it would have had either to re-elect Castro or choose a new president.
Cuba held elections last month for a new National Assembly; the new legislature meets for the first time on Sunday. Their first order of business is to elect an Council of State and a president. The president of the Council of State will serve as Cuba's president for the next five years.
Castro handed power to his younger brother, Raul, 18 months ago, on an interim basis.
Many see a chance now for Raul, 76, to implement reforms he has hinted at since taking over as acting president when Fidel Castro fell ill in July 2006.
Raul Castro has called for better relations with the United States, only to have his brother say that the time was not right for such a shift.
Many analysts think Raul Castro will try to open the Cuban economy and make other changes. But as long as Fidel Castro is alive, the Communist Party leader will still be a powerful force in Cuba.
The announcement came overnight in the online edition of the Communist Party newspaper Granma. For five decades, Castro led Cuba, transforming the island nation into a communist stronghold 90 miles from the United States.
"Once he became convinced of any of his projects, despite whatever evidence, despite whatever arguments against that project, he stood by his convictions and he would go on and on regardless of everything and everyone," said Domingo Amachastegui, who served under Castro in the Cuban Foreign Ministry.
Cuba's National Assembly is expected to nominate Castro's younger brother, Raul Castro, as president.
Still, Fidel Castro will remain as first secretary of the ruling Communist Party, and he told fellow Cubans in his message Tuesday, "My only wish is to fight as a soldier in the battle of ideas."
In his letter announcing his withdrawal from office, Castro wrote, "This is not my farewell. I shall continue to write under the heading 'Reflections by Comrade Fidel."
"Perhaps," he wrote, "my voice will be heard."
After hearing of the news, President Bush said that he sees opportunity in Castro's retirement.
The transition from Castro to a new government ought to lead to free and fair elections, the president said. Bush was speaking at a news conference during his trip to Africa.
"The question should be, what does this mean for the Cuban people?" Bush asked. "They're the ones who suffered most under Castro."
The president called for the international community to help Cuba move toward democracy.
From NPR reports and the Associated Press
Related NPR Stories