Musical Radiance in the Sunshine State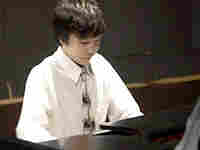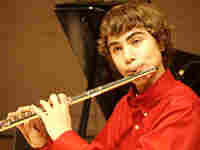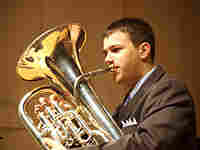 This week, from Daytona Beach, Fla., a nimble-fingered 15-year-old violinist plays Wieniawski, a 13-year-old flutist takes inspiration from Jethro Tull, and a multi-talented teen soprano sings Donizetti.
Music is at the heart of 18-year-old soprano Andrea Carroll's life. "It has always been my outlet," she explains. "When I'm singing, there's nothing else."
In addition to singing solo works, Carroll performs in three choirs, a beauty-shop quartet, and a co-ed a cappella group. Last summer, she attended the Boston University's Tanglewood Institute. "I learned so much," she says. "I didn't want to leave!"
Carroll wants to continue studying voice after high school, and is on the verge of choosing a college or conservatory. "The most important part of the process is finding the right teacher, the one who can do the most for my voice," she says. She sings "Poor Wand'ring One" by Gilbert and Sullivan, and "Eterno amore e fe," by Donizetti.
Mia Laity, 15, was inspired to play music when she was just two years old, after seeing a mariachi band performing in a supermarket.
"The musicians wore big black hats and pretty vests," she recalls. The violinist especially caught Laity's eye, and later that day she put on a black hat and picked up a ladle and wooden spoon, pretending she was playing her very own violin. It wasn't long before she started playing violin for real.
Laity learned an invaluable lesson at a concerto competition, where she had to play some difficult music by Paganini. She practiced until the last minute, but when she took the stage and started to play, her fingers were too tired to move the way she wanted them to. Rather than staying upset, she decided to let go and start having fun. Her performance soared and she was awarded the grand prize. She plays Scherzo-Tarantelle by Wieniawski, with Christopher O'Riley at the piano.
Seventeen-year-old Brian Logan is a product of one of the best marching band programs in the state of Florida. "We have a district competition where each band gets a rating, and our band program has had the highest rating for 59 consecutive years," he explains. Logan's life as a euphonium player started in the sixth grade when he joined band.
"My brother suggested I try euphonium because it was a cool instrument like tuba, but not as heavy," he says.
Logan excelled almost immediately. "It just came really easy to me," he remembers. Logan loves band so much that he wants to make a career of it one day, and has his sights set on joining a military band. He performs "Andante con moto" from Harlequin, by Philip Sparke, accompanied by Christopher O'Riley.
Jake Chabot, 13, first encountered the flute listening to recordings of his dad's favorite rock band, Jethro Tull. Chabot never particularly liked the band, but was enchanted by the sound of the instrument.
Chabot started playing flute in third grade, and within months, gave his first public performance — in the cafeteria of his elementary school — playing a shaky rendition of Jolly Old Saint Nicholas.
Now Chabot plays both flute and piccolo. He loves to practice both instruments, much to the chagrin of his parents and siblings, who tire of the piccolo's piercing high notes. "They're getting more used to it, but it still drives them nuts," Chabot says. He plays two movements from the Suite in A minor by Telemann.
Pianist John Wen became entranced with music when he was a toddler.
"My grandpa put on a classical CD, and apparently I stopped shouting and breaking furniture long enough to listen," he says. "My mom took notice of this and started buying me classical CDs to shut me up. I think it started with Mozart for Babies and worked up to Prokofiev."
Wen also plays violin and made first chair in his school orchestra without ever having taken a private lesson. "I love all kinds of music," he says, "but for some reason I always want to be practicing piano. There's so much to learn and I want to learn it all!
He performs the Transcendental Etude No. 10 by Liszt.
This program originally aired on February 20, 2008.
Andrea Carroll sings Gilbert and Sullivan