Accused Malcolm X Assassin Maintains Innocence
Accused Malcolm X Assassin Maintains Innocence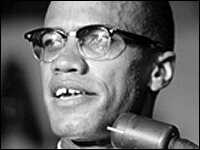 Forty three years ago today, Malcolm X took to the stage of Harlem's Audubon Ballroom. He was just minutes into what would be his last speech, when assassins seated in the front, stood and opened fire.
NPR's Tony Cox talks with Khalil Islam, who served 22 years in prison for that killing. Islam, however, still maintains his innocence.
Mark Jacobson, who wrote a New York magazine feature story about Khalil Islam last October, also joins in the discussion.