Officers in Exodus, Military Losing Seasoned Soldiers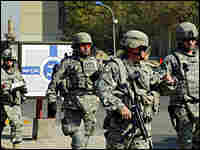 Ali Yussef/ AFP/Getty Images
In 2003, eight percent of junior officers in the armed services with four to nine years experience left the army. Last year, the number rose to 13 percent.
Andrew Tilghman, a staff writer for the Marine Corps Times, talks about what the military's loss of the 'best and brightest' could mean for the war in Iraq and beyond. Tilghman recently wrote an article on the topic in Washington Monthly magazine entitled "The Army's Other Crisis."
Joining the discussion is Lieutenant Colonel John Nagl, commander of 1st Battalion, 34th Armor Division at Fort Riley, Kansas. Nagl was deployed to Iraq in 2003 and is author of the book, Learning to Eat Soup With a Knife: Counterinsurgency Lessons from Malaya and Vietnam.
Books Featured In This Story
Counterinsurgency Lessons From Malaya And Vietnam
Paperback, 249 pages |
purchase
Buy Featured Book
Title

Learning To Eat Soup With A Knife

Subtitle

Counterinsurgency Lessons From Malaya And Vietnam

Author

John A. Nagl and Peter J. Schoomaker
Your purchase helps support NPR programming. How?