Elmer Gantry, a Flawed Preacher for the Ages
Elmer Gantry, a Flawed Preacher for the Ages
Watch a Clip
Elmer Gantry (Burt Lancaster) takes his message to the speakeasy.
Media no longer available
"Just a monkey, folks. Just a monkey."
Media no longer available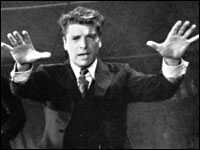 Elmer Gantry, the traveling evangelist who loved whiskey, women and wealth, was conceived by Sinclair Lewis in a best-selling 1927 novel. Lewis went on to win the Nobel Prize for Literature, and Gantry went on to lofty-synonym status: Displays of hypocrisy and showmanship will often evoke his name, especially in reference to preachers — and, increasingly so, to politicians.
Lewis delighted in exposing hypocrisy and pomposity. His landscape was America in the 1920s, a time when the Jazz Age and Prohibition were both in full swing, the Scopes Monkey Trial in Tennessee highlighted a rise in fundamentalism, and traveling evangelists were popular.
Lewis had written about a small town in Main Street and skewered a businessman in Babbitt. But in Elmer Gantry, he set his sights higher. He went to Kansas City for his research, gaining the trust of several ministers, and then to a lakeside in Wisconsin to craft his novel.
"Elmer Gantry was drunk. He was eloquently drunk, lovingly and pugnaciously drunk." With these words, Lewis introduces the reader to his protagonist, a charming womanizer with a great voice who has been been kicked out of seminary and works as a traveling salesman.
Gantry gets religion at a tent meeting in a small town, where he falls for Sister Sharon Falconer. She's suspicious, but agrees to take him on when he vows to testify as a "salesman who found God." The trouble down the novel's road awaits simply because Gantry never had a genuine call to the pulpit.
Eighty years after the book and almost 50 years since the movie, Elmer Gantry's name still rises alongside the downfall of preachers and, increasingly, politicians. Often, the first paragraph can't be written without evoking Gantry's, especially if the accused has spoken out against what he is now thought to have done.
"There's an Elmer Gantry in every one of our hearts," warns Phillip Bethancourt, a master of divinity student at The Southern Baptist Theological Seminary in Louisivlle. Bethancourt, who recently watched a DVD of the 1960 film version of Elmer Gantry (a role that earned Burt Lancaster an Oscar), says he finds modern-day Gantrys on television and the Internet.
It was this hypocrisy that drove Lewis in his writing career. Speaking at the author's funeral in 1951, the young writer Frederick Manfred delivered a eulogy that captured Lewis' vision of how life should be, and helped to explain his motives for creating a thoroughly flawed character like Elmer Gantry.
"Red Lewis was an honest man. And a man who loved justice. Thus, when he saw the vast, the awful gulf that lay between the two knowledges, he was outraged, and a fire started in him that never went out, that harried him until he gave in to it and he had to take up paper and pen."