Ralph Nader Says He Will Join the 2008 Race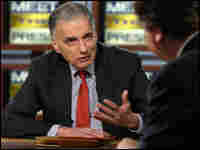 Kicking off his fifth run for Oval Office, Ralph Nader announced Sunday that he will be joining the 2008 election as an Independent candidate. Nader says that the Democratic and Republican candidates are not addressing the issues that a majority of the American people care about.
Nader, a longtime consumer advocate, lawyer and author, talks about his decision to join the race despite intense criticism from some Democrats who blame him for taking crucial votes from Al Gore in the 2004 presidential election.