Delicious Musical Creations in Boston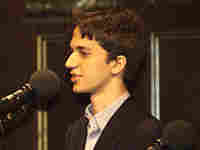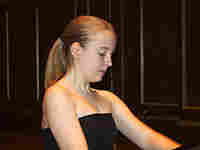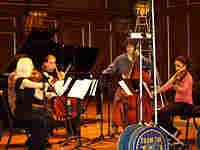 From New England Conservatory's Jordan Hall in Boston, From the Top's accomplished young musicians include an 11-year-old crackerjack violinist performing a showpiece by Sarasate, a prizewinning 18-year old composer with a beautiful romantic string quintet, and a free-spirited flutist who cooks up a tasty musical and culinary offering. This program originally aired March 21, 2007.
Violinist Anna Lee is just eleven years old but she's already impressed audiences at places such as the Aspen Music Festival and School in Colorado. Conductor David Zinman has taken the young violinist under his wing at Aspen and claims that she can already play extremely difficult pieces that he has never mastered.
Lee has self-confidence, a curious mind (she's interested in art and science) and technical mastery of the violin well beyond her age. She says music gives her emotions, helps her think more clearly, and simply helps her "get on" with her life. She performs "Zapateado," op. 23 by Sarasate.
The talented teens of the Tarantella Quartet — violinists Julia Glenn and Robert Anemone, violist Celia Hatton, and cellist Thomas Mesa — all study at the Walnut Hill School, an arts boarding school in Massachusetts. The group had great chemistry from the start.
"We get along really well, and have a great work ethic," says Mesa. "Playing music together creates a connection," adds Anemone. "We're all here because we love to play."
The quartet named themselves in part after a movement of a piece they were learning, Ervin Schulhoff's Five Pieces for String Quartet. They also thought "Tarantella" would be an appropriate name since they all enjoy dancing. They perform the third and fifth movements from Schulhoff's Five Pieces for String Quartet.
At the age of 15, Kerensa Gimre is already a full-time college student. She's been taking classes at Pacific University in Oregon since the age of 11. "I was home-schooled at the time, and we reached a point when my mom wanted to teach me science, but we weren't allowed to purchase any science equipment," she explains. Her mom started looking for other options, and before long Gimre was enrolled in classes at the university.
Gimre is passionate about science — so passionate that she is triple majoring in chemistry, math and physics. Despite her intense academic schedule, Gimre still manages to find time to play piano. "It's definitely a challenge to find time to practice at the moment," she says, "but it's something I love to do. I'll always hold music very close to me." She plays two Etudes by Alexander Scriabin (Op. 2, No. 1 and Op. 8, No. 2).
After Daquise Montgomery heard a teacher at his school play the flute, he had a dream of playing the instrument himself.
His dream came true but not without a little struggle, a lot of practice, and some good home cooking.
Montgomery started taking flute lessons with Ms. Richardson, but paying for the sessions soon became a financial burden.
Then by chance Ms. Richardson tasted his cooking. "I learned to cook from watching my mom and my grandparents cook," says Montgomery. "One day I cooked something for Ms. Richardson, and she said, 'Who cooked this, your Mom?'"
Montgomery joked that if she enjoyed his cooking that much, he could prepare meals for her family to pay for lessons. A deal was struck, and that's how the bartering between good food and good music making started. He plays "Poem" by Charles Tomlinson Griffes.
Composer Stephen Feigenbaum has great respect for all kinds of music and wishes there were less of a divide between popular and classical styles. "I think pop music is a legitimate expression of music and that classical music needs to be better integrated into the mainstream," he explains.
Feigenbaum hopes to make a living writing music that appeals to a wide audience. "My goal is to compose music that is compositionally sound, but that draws an enormous audience of all types of people," he says. The young composer is looking forward to his one-on-one mentoring session with the popular American composer John Harbison.
The Tarantella Quartet with double bassist Nicholas Schwartz perform Feigenbaum's Serenade for Strings, which won him first place in the Senior Category of the MTNA Student Composition Competition in Massachusetts.