The Unger Report: Stairway to Fitness
Getting a Free Workout Climbing a Santa Monica Canyon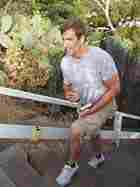 There are plenty of famous stairways in America. There's the steps leading up to the Philadelphia Museum of Art, featured in a scene from the first Rocky film. Washington, D.C., has the steps of the Lincoln Memorial — and the spooky Georgetown stairway featured in the final, fatal scene of The Exorcist.
In Los Angeles, cracked Day to Day reporter Brian Unger scales another staircase of note — a Santa Monica landmark that's been overrun by fitness fanatics.
People from all over the city gather in a tony Santa Monica beachside neighborhood to lumber up and down the 154 steps from the floor of a canyon to its rim. It's a morning ritual for all types of L.A. inhabitants. But Unger asks the question: How much fitness is too much fitness?