'Superman on the Couch' Explores American Psyche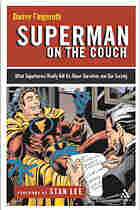 A society's heroes represent its strengths, its ideals -- and its fears. Danny Fingeroth has been studying comic-book super heroes for more than 25 years. He has collected his ideas about why super heroes appeal to people in his book, Superman on the Couch.
According to the book, the comic-book characters tap into universal themes that people can identify with, making fans out of groups of people who might not have anything in common with each other. NPR's Andrea Seabrook talks with Fingeroth.