Eroded Oregon Coast Yields Once-Sunken Surprises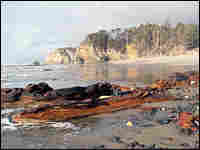 Tiffany Boothe/Seaside Aquarium
Tiffany Boothe/Seaside Aquarium
Shipwrecks, ghost forests of tree stumps thousands of years old and brilliant red formations have all been uncovered this winter along the Oregon coast after severe storms led to massive erosion.
Tiffany Boothe works at the Seaside Aquarium in Seaside, Ore., at the very northern tip of the coast.
She tells Melissa Block that the trees look as if they are coming right out of the sand or "emerging from the surf." Normally, the Oregon coast features flat, sandy beaches.
Geologists say the stumps in these ghost forests could be 4,000 to 80,000 years old.
The beaches are also now dotted by stone formations of a rusty red color. Some are towers, some are long and ribbonlike.
Formed from iron oxide and minerals in the sand, the rocks are particularly beautiful at sunset, Boothe says.
The sand on these beaches moves like liquid, Boothe says, so formations that are exposed one day might disappear the next.