'Kind Hearts and Coronets'
Sir Alec Guinness Plays Eight Characters in Revenge Comedy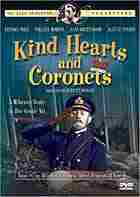 This film, one of the most beloved Ealing Studios comedies, is a dazzling dish of revenge, served ice cold.
Louis Mazzini (Dennis Price) is born to an aristocratic British woman in Edwardian England, disowned by her family after her marriage to an Italian opera singer. After his mother dies, penniless and ignored by the D'Ascoyne clan, the adult Mazzini gets it into his handsome head to bump off his surviving relatives until he can realize his mother's dearest wish: coming into the title of Duke of Chalfont.
Price is pitted against Sir Alec Guinness — no less than eight times, as Guinness plays every single member of the snooty D'Ascoynes. The Parson, the Admiral, Young Henry, Lady Agatha... each is a teacup boor lurching unwittingly towards doom.
Guinness is all starch, sauce and repressed glee, and his multiple performances are a justly celebrated tour de force. And for his part, Price plays the unctuous killer with a complexion resembling nothing more than a snowy white meringue.
The subtle pathos he brings to the role somehow further curdles Price's character, rather than rendering him more sympathetic. To bear witness to his murders is a peerless — so to speak — exercise in schadenfreude.
"You are trying to sell that most unsaleable commodity to the British — irony. Good luck to you," said the head of Ealing Studios to director Robert Hamer in 1949, the year the film was made. Just barely a breath after World War II, the British were apparently ready for irony. So too were the audiences of other nationalities and subsequent generations enraptured by Kind Hearts and Coronets.
What's Included: Kind Hearts and Coronets will someday receive the DVD treatment it deserves. This, however, isn't it. The picture is adequate but hardly luminous, and the audio is not noticeably restored. Bonus features disappoint — they include only a lengthy, humorless theatrical trailer and a meandering, unenlightening text biography of Sir Alec Guinness.
Title: Kind Hearts and Coronets
Publisher: Anchor Bay Entertainment
Format: Region 1 DVD (U.S. and Canada Only)
Release Date: Sept. 10, 2002
Features:
» Text filmography/bio of Sir Alec Guinness
» Theater trailer