Bush, Blair See Hope for Progress in Middle East
President Bush and British Prime Minister Tony Blair meet with reporters at the White House, saying there is an opportunity for getting the Middle East peace process back on track. But there was no serious talk of a peace conference, or of a new Middle East envoy for the Bush administration. NPR's Don Gonyea reports.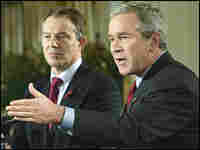 NPR transcripts are created on a rush deadline by Verb8tm, Inc., an NPR contractor, and produced using a proprietary transcription process developed with NPR. This text may not be in its final form and may be updated or revised in the future. Accuracy and availability may vary. The authoritative record of NPR's programming is the audio record.