New Orleans' Former Top Cop Now Patrols Schools
New Orleans' Former Top Cop Now Patrols Schools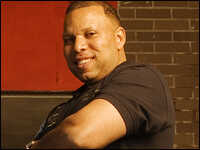 About This Series
A doctor working seven days a week in a clinic she started herself. A former police chief, now head of security for the troubled school system. A community organizer struggling to raise money for a library and a school. Outside the public glare, people like these are working to rebuild their homes, their neighborhoods, their communities and cities across New Orleans and the Gulf Coast.
For some, it's a combination of their careers and their commitment to rebuilding the communities they grew up in. Others came to New Orleans after Katrina, then stayed, when they saw a chance to help out — and to build a new life.
The challenges are immense — in the schools, the courts, the health care system. Rebuilding homes and communities; restoring the environment. Over the next few months, NPR will be telling the stories of some of these people — profiles of some of the little-known heroes who are making a difference.
Read more in the series:
New Orleans public schools have more security guards than counselors. School safety is one of many problems in a city and a region still struggling to come back more than two years after Hurricane Katrina.
The man tapped to bring order to the schools is Eddie Compass, the city's former police chief. Technically, Compass's new job title is executive director of security. But to everyone, he's still "the chief."
"Eddie Compass is the chief. He will always be the chief," says Anthony Jackson, a contract security guard at a New Orleans high school.
Casualty of Katrina
Many in the city think Compass got a bum rap when he was pushed out of the top cop job right after Hurricane Katrina.
"I watched him when I was evacuated. Eddie Compass did what he was supposed to do," Jackson says. "In my heart, he still should be the chief. He had a relationship with the people, and that's the most important thing."
That relationship became one more casualty of Katrina.
Compass' popularity plummeted after the storm. He frequently gave exaggerated reports of violence and broke down several times on TV. Compass says soon after, he received a message from the mayor instructing him to find an "exit plan."
In an uncharacteristically curt announcement, Compass resigned, saying he was "going on in another direction God has for me."
Compass now says God led him right to the front doors of the troubled New Orleans public school system.
"I think it is my destiny to be at this school and help these kids," Compass says.
Cold Cash
Standing in front of one of the city's roughest high schools, Compass now looks years younger and happier than he did during those tough days as police chief.
"I think I'm having a big impact on the lives of our youth," he says.
Compass drops in on 12 schools a week. He doesn't carry a gun, and his security chief badge is just gold embroidered lettering on a dark blue polo shirt.
On a visit to Thomas Walley's fourth-grade math class at Benjamin Banneker Elementary School, the students' eyes light up. They know what's coming.
"When I visit the schools, I try to talk to you and explain to you the rewards to learning your lessons," Compass says.
Compass's rewards are cold hard cash.
He says he learned as a beat cop that kids need rewards from the police in order to build better relationships. If not, he says, then it's just the drug dealers in the neighborhood handing out the money and the candy.
With the older students, his approach is different.
"I try to be supportive, and I don't want to be intrusive," Compass says.
Taking it Door-to-Door
Many critics claim that before Compass started in the school system, the district was treating schools like prisons. Last school year, more than 300 guards were patrolling just 20 campuses — at a cost of $20 million. This year, Compass cut that cost in half and has been slashing the number of guards. He says his plan is working and points to McDonogh High School, the city's roughest school, as proof.
Compass says the halls at McDonogh are calmer and more orderly. And he says police are receiving far fewer calls for assistance this year. Compass gives most of the credit to McDonogh's new principal, Gerald DeBois.
DeBois throws that praise back at Compass — mostly for realizing that 30 guards at the school was just too much.
"It has a negative effect on the students. The guards that we have now work well with the children, without crossing that boundary that no means no. And when you are told to do something, we expect you to do it the first time," DeBois says.
DeBois says it also helps that Compass is willing to knock on the doors of troubled students.
Compass says he got the idea to do home visits during his first week on the job. Two girls got into a fight, and he took one of them straight home. The girl's mother, unaware of Compass's career change, was shocked when the former chief came through the door with her daughter.
"Her mother said, 'Girl, you got the chief of police in my house. You better behave,' " he says. "Hey, I'm on to something here."
Compass says he always straightens out any confusion over his title. But his past profession gets him in the door and instant respect.
"Oh, I think I'm going to be here a long time," he says.
He says it's not even like going to work.