Spacey Doubles Darin on Stage, Screen
Spacey Doubles Darin on Stage, Screen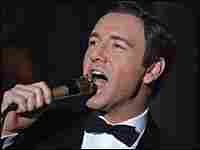 More from the Interview
Kevin Spacey touches on more topics, including:
Screening the Film for Sandra Dee
Making a Physical Transformation
Darin's Health and Drive
Working with Kate Bosworth
Darin the Impressionist
Dealing with Fans
As a young child, singer Bobby Darin would perform for his family while singing into a hairbrush along to Frank Sinatra records. It's a scene that actor Kevin Spacey says has parallels in his own childhood — except that, while Darin sang along to Sinatra, the young Spacey sang along to Darin.
Spacey Sings Darin
Hear 30-second clips of Kevin Spacey singing two of Bobby Darin's biggest hits:
* From Beyond the Sea: Original Motion Picture Soundtrack
'Beyond the Sea'
'Dream Lover'
Not content to leave his impersonation of Darin in the family living room, Spacey transforms himself into the legendary vocalist in this month's new biopic Beyond the Sea. The film chronicles Darin's journey from a sickly child whose heart was damaged by rheumatic fever, to a superstar singer-songwriter and Academy Award-nominated actor.
Darin died in 1973 following open-heart surgery. He was 37. During his brief career, Darin was known as an obsessive entertainer. Spacey echoes that drive in his tribute to Darin: not only did he write, co-produce and direct Beyond the Sea, he also sings Darin's songs himself.
In channeling Darin, Spacey ventures beyond the silver screen and onto the nightclub stage, taking his live act as Darin on a 10-city tour in time for the film's Dec. 29 release. Spacey talks about doubling Darin with NPR's Liane Hansen.